Recipe
Food Literacy Center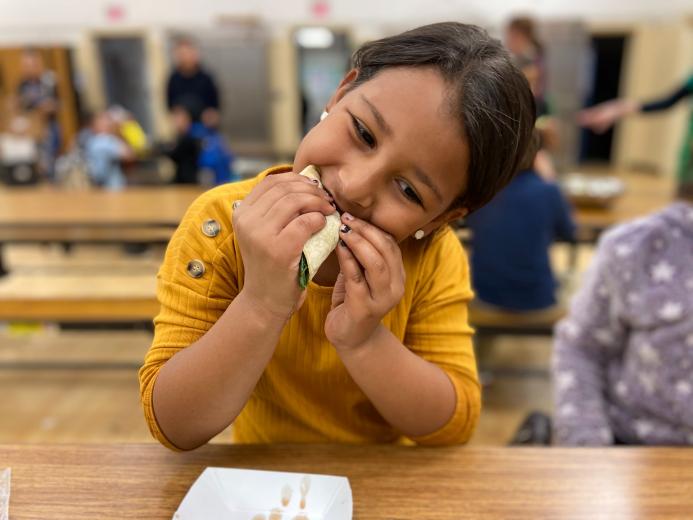 Tres Hermanas Salsa
This recipe is inspired by the Three Sisters planting technique. It features the 2013 Veggie of the Year of the award – sweet potato. We chose this ingredient knowing that Kid Chef Aidan would be joining us to lead the cooking lesson.
Tres Hermanas Salsa
Ingredients:
1-2 Tablespoons olive oil
4 small sweet potatoes, peeled and cut into 1-inch cubes
1 teaspoon ground cumin
1 cup frozen sweet corn, thawed
1 cup black beans
1 green onion, diced
Juice of 1 lime wedge
5 sprigs cilantro, chopped
Salt and pepper to taste
Instructions for parents/teachers:
Preheat oven to 425 degrees. Peel and dice sweet potatoes into 1-inch cubes and place in a medium bowl. Add the olive oil and toss to coat. Place on a baking sheet in preheated oven for 15 to 25 minutes, until sweet potatoes are soft when pierced with a fork. Remove from oven and allow to cool. Place in a large mixing bowl and have kids help with the next steps.
Instructions for kids:
Add cumin to roasted sweet potatoes that have cooled and are in a large mixing bowl. Stir to gently coat sweet potatoes with spice. Add sweet corn, black beans, green onion, juice of the lime and cilantro. Stir to combine. Add salt and pepper to taste.
Enjoy!
Hello! We hope you made and enjoyed this recipe from our Your Sandwich Can Save the World! Food Literacy Curriculum! Please note that all photos and content are copyright protected. Please do not use our photos without prior written permission. If you wish to republish this recipe, please rewrite the recipe in your own unique words and link back to Tres Hermanas Salsa on Food Literacy Center's website. Thank you!
Related Links