Kid Chef Aidan
This week, kid Chef Aidan made us proud leading one of our cooking lessons! Aidan Hennessy, now a sixth grader, was our 2013 winner of the Kids Recipe Contest with his Veggie of the Year-inspired sweet potato pancakes. His passion for cooking continues to blossom, and he comes out to cook with food literacy every chance he gets!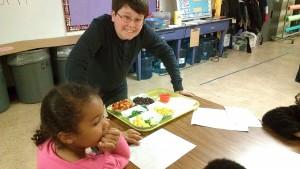 We like to encourage student leadership, and Aidan embodied this well as he taught a cooking lesson at Capitol Heights Academy to kindergarteners and first graders. He chose to demonstrate how to make Tres Hermanas Salsa, using the winning Veggie of the Year – the sweet potato. While our lead instructor, Elaine, taught the kids about the companion planting concept of "Tres Hermanas," Aidan was in the kitchen prepping his own ingredients for the recipe he was about to teach.
After the cooking lesson, Aidan worked with a group of children showing them how to measure the corn, tear the cilantro leaves and squeeze the fresh lime. The kids really enjoyed meeting someone new, and being taught by another kid. One student told us it was better than his grandma's sweet potato pie! Another kid asked if they too could be a kid chef. Aidan said that once they cooked the day's recipe, he would consider them all kid chefs.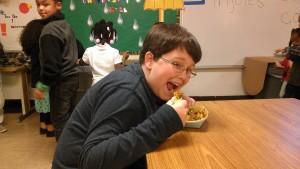 The recipe was the perfect complement to the Three Sisters planting technique learned earlier in class. Students even learned how to say the words for corn, beans and squash in Spanish."We're so proud of Aidan for his continued efforts to improve his cooking and food literacy skills–and for wanting to share what he's learned with younger students!" said Amber Stott, executive director of California Food Literacy Center.
Related Links