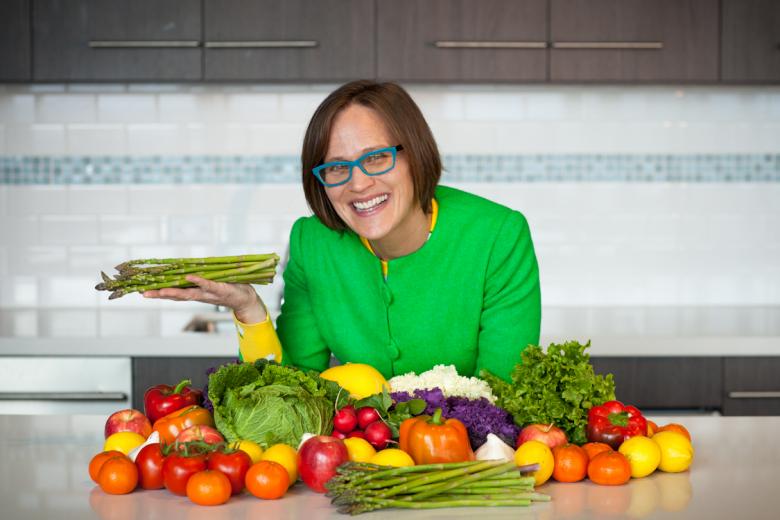 Amber K. Stott
Founder, CEO & Chief Food Genius
Chief Food Genius, Food Literacy Center
Passionate about fruits and veggies, Amber grew up cooking and growing her own food, a joy she wants every child to experience.
In 2011, Amber responded to the rising childhood obesity crisis by starting the nonprofit Food Literacy Center to inspire children to eat their vegetables. The nonprofit does this by teaching cooking and nutrition classes to elementary kids in low-income schools, helping them develop healthy habits that will last a lifetime. Amber uniquely understands the audience she's serving, and designed a behavior change model to meet the needs of those at highest risk for diet-related disease. Within just two months of food literacy classes, the nonprofit changes kids' attitudes towards healthy foods—the first step towards long-term behavior change.
With two decades of management experience serving health-based nonprofits, Amber has raised $6.5 million for local charities. Known for putting vision to action, she has led Food Literacy Center's dramatic growth: expanding from 1 school to 9 in only five years, and poised to open a 5,000 square foot cooking school and active learning garden in partnership with Sacramento City Unified School District on the community's Leataata Floyd Elementary School campus—a project slated to open in late 2020. This school serves as a model for statewide programs, because it's one of the first in the state to sign a formal district operating agreement and meet state-level building approvals. Learn more.
Amber designed the agency's brand, methodology, curriculum, and Food Literacy Academy training for community members to become food literacy instructors. She worked with California Assemblymember Roger Dickinson to pass a resolution declaring September "Food Literacy Month" in the state, and oversaw its passage in Yolo and Sacramento Counties and City of Sacramento. She helped design the Sacramento Food Film Festival, which combines public education through food documentaries with hands-on culinary experiences.
Amber also writes about food and health for local and national publications. She delivers local and statewide keynote speeches and trainings on nonprofit marketing, fundraising, and food literacy programming. She has interviewed chefs Dan Barber, Jeremiah Tower, and others at major public events, and hosted chefs Jamie Oliver, Alice Waters, and Ann Cooper.
Honors for Amber include being named one of Sacramento's most powerful business leaders by Sacramento Magazine, Food Revolution Hero by Jamie Oliver Food Foundation, one of Food Tank's 20 Innovators Protecting the Planet and one of their 17 Food Heroes to Inspire Us in 2017, Outstanding Woman Leader by the National Association of Women Business Owners, and a TEDx Sacramento Fellow. View her TEDx Talk here.
Amber is devoted to community volunteerism that leads to a healthier food system. She helped develop a local food policy council and is a founding member of the steering committee for America's Farm-to-Fork Capital.
Amber holds a Master's degree in African Studies and Women's Studies from the University of Illinois-Champaign-Urbana. She holds a bachelor's degree from the same university in Comparative Literature and Women's Studies, graduating with distinction. She speaks Danish and Zulu.
"Where I grew up, in rural Illinois, eating locally wasn't a movement. It was just how people lived. I want everyone to experience the joyful flavors from eating good food grown by our local small farmers."
Related Links