Recipe
Food Literacy Center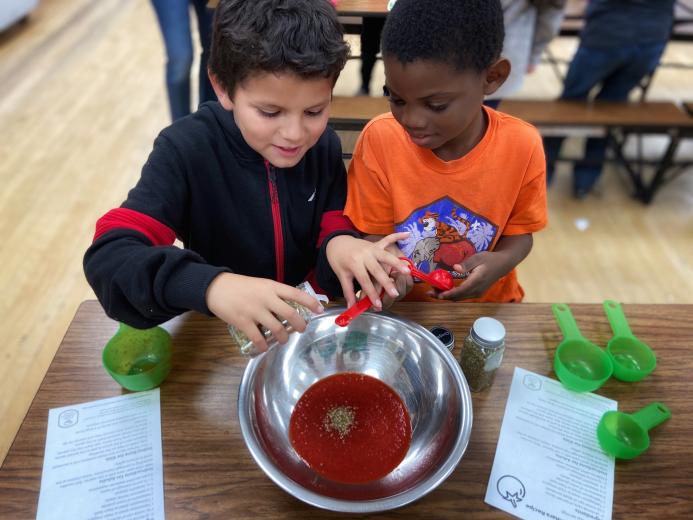 Spaghetti Marinara
Spaghetti regularly tops the list of foods our kids love to eat. This recipe uses canned tomato products instead of packaged pasta sauce, because it allows you to control the amount of sugar and salt in your diet. It's easy and inexpensive to make spaghetti from scratch. Kid-approved!
Spaghetti Marinara
Yield: 6 servings of 2 cups
Printable Recipe in English
Printable Recipe in Spanish
Printable Recipe in Hmong
Video of the Recipe
Ingredients:
2- 15 ounce cans of tomato sauce
1-15 ounce can of diced tomatoes
1 Tablespoon dried or fresh oregano
1 Tablespoon dried or fresh basil
2 teaspoons of onion powder
1/4 teaspoon fennel seeds
1/4 teaspoon pepper
1 – 13 ounce package of pasta
2 cups sauteed seasonal vegetables
Instructions for Adults
Help child open cans with a can opener. Boil noodles according to package instructions. Assist children at the stove to ensure safety.
Instructions for Kids
Pour tomato sauce and diced tomatoes into a saucepan over medium heat on the stovetop.
Measure each of the spices & add to the tomato sauce.
If you are using fresh herbs, tear them into tiny pieces with your hands and add them to the sauce.
Bring to a boil, then reduce heat and simmer for 20 minutes.
Mix cooked pasta and sauce in a large bowl.
Serve with sauteed seasonal veggies.
Hello! We hope you made and enjoyed this recipe from our Your Sandwich Can Save the World! Food Literacy Curriculum! Please note that all photos and content are copyright protected. Please do not use our photos without prior written permission. If you wish to republish this recipe, please rewrite the recipe in your own unique words and link back to Spaghetti Marinara on Food Literacy Center's website. Thank you!
Related Links