Recipe
Food Literacy Center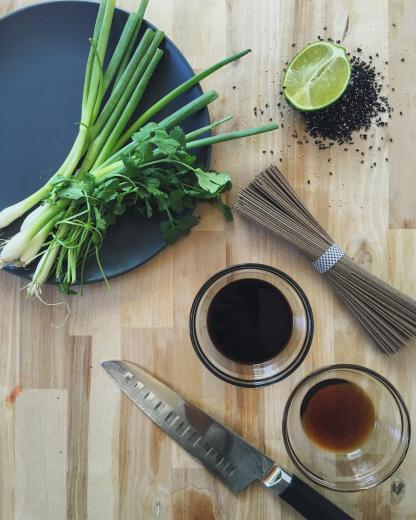 Soba Noodle Salad and Dressing
This Soba noodle salad is made with soba noodles, which is Japanese for buckwheat, and traditionally served cold. Great for a hot day!
Soba Noodle Salad and Dressing
Ingredients:
13 ounces of dried soba noodles
2 bell peppers, cut into small pieces
1 cucumber, sliced thinly
5 green onions, chopped
1 small bunch cilantro, chopped – about 1/2 cup
1 carrot, grated – about 1 cup
1/2 head of small cabbage, shredded – about 2 cups
1 cup of soba dressing (see attached recipe)
Instructions for adults:
Bring a large pot of water to a boil, add dried soba and boil according to package directions, or until noodles are soft. Stir occasionally. Drain noodles and rinse under cold water. Set aside. Slice bell peppers, cucumber, green onions, and cilantro set aside.
Instructions for kids:
Using the large holes on your grater, grate 1 cup of carrot and half the head of cabbage. Set aside. In a large mixing bowl, put cooked soba noodles, bell pepper, cucumber, green onion, carrot, and cabbage together. Pour soba dressing over ingredients and toss together until combined. Serve immediately and enjoy!
Soba Dressing
Ingredients:
1 clove of garlic, finely minced
2 teaspoons sesame oil
1/3 cup rice vinegar
1/3 cup soy sauce
2 Tablespoons honey
Juice and zest from 1 lime
Instructions for adults:
Peel and mince garlic, set aside.
Instructions for kids:
Measure and pour sesame oil, rice vinegar, soy sauce into a clean jar with a tight fitting lid. Add minced garlic, lime juice, and lime zest. Seal jar completely with lid, and shake vigorously until ingredients are well combined.
Hello! We hope you made and enjoyed this recipe from our Your Sandwich Can Save the World! Food Literacy Curriculum! Please note that all photos and content are copyright protected. Please do not use our photos without prior written permission. If you wish to republish this recipe, please rewrite the recipe in your own unique words and link back to Soba Noodle Salad and Dressing on Food Literacy Center's website. Thank you!
Related Links