Recipe
Food Literacy Center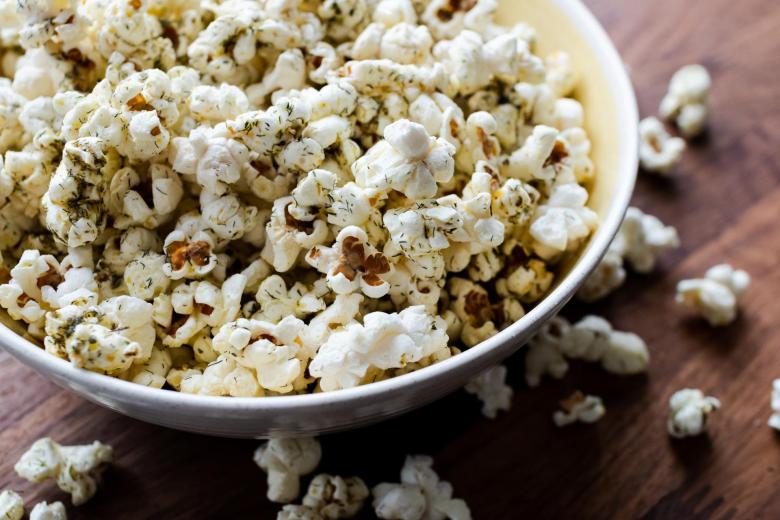 Ranch Popcorn Seasoning
We know kids love salty, crunchy snacks–and we have a healthy version! Our ranch popcorn uses simple, easy ingredients that kids can make. This snack is flavor-packed. Kids can't get enough! Bonus: the seasoning in the recipe can double as a dip for veggies when stirred into sour cream or yogurt.
Ranch Popcorn Seasoning Recipe
Yield: 3 Tablespoons of Seasoning
Printable Recipe in English
Printable Recipe in Spanish
Printable Recipe in Hmong
Video of the Recipe
Ingredients:
1 Tablespoon dill weed
1 Tablespoon nutritional yeast
1 teaspoon oregano
1 teaspoon coriander
1 teaspoon garlic powder
1/4 teaspoon white pepper
1 heaping bowl of popped popcorn with salt & olive oil to taste
Instructions for Adults
Make the popcorn and let kids watch. Set aside while kids make the ranch seasoning.
Instructions for Kids
Combine dill weed, nutritional yeast, oregano, coriander, garlic powder, and white pepper in a jar (or small mixing bowl) Place lid on jar and shake to mix the spices, about 30 seconds.
Lightly sprinkle the seasoning on the popcorn to taste (start with 1 teaspoon and add more if you want). Stir or shake onto popped popcorn to combine.
The remaining seasoning will stay fresh in the jar for several months, providing you with an easy go-to snack seasoning.
Hello! We hope you made and enjoyed this recipe from our Your Sandwich Can Save the World! Food Literacy Curriculum! Please note that all photos and content are copyright protected. Please do not use our photos without prior written permission. If you wish to republish this recipe, please rewrite the recipe in your own unique words and link back to Ranch Popcorn Seasoning on Food Literacy Center's website. Thank you!
Related Links