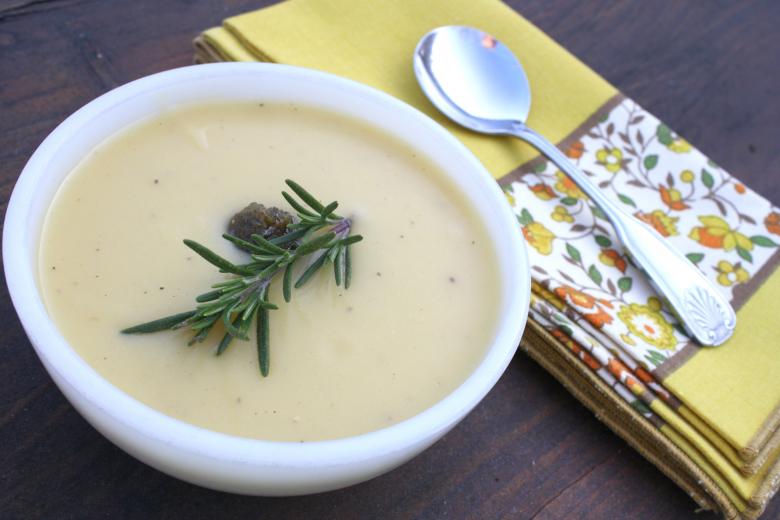 Potato & Roasted Garlic Soup
This quick and easy potato soup recipe is perfect for a weeknight meal. Packed with healthy and affordable potatoes, it pairs nicely with traditional Irish-American staples like ale and corned beef. This soup is hearty enough to stand on its own, too. Garnish with some green leaves of parsley.
Potato & Roasted Garlic Soup
Ingredients:
¼ cup butter
1 large yellow onion, diced
2 lbs yellow potatoes (about 5 medium potatoes), peeled and chopped
4 cups vegetable stock
1 whole bulb garlic, roasted and removed from skin
Salt and pepper to taste
Dry jack cheese to garnish
Instructions:
Melt the butter in a Dutch oven over medium heat. Add the onion and cook until tender and translucent, about 5 minutes. Add the potatoes and stock. Bring to a boil. Then, reduce to a simmer, cover, and cook about 20 minutes more, or until potatoes are tender when pierced with a fork.
Place a large strainer over a large bowl, and strain the soup. Transfer the liquids back into the Dutch oven. Transfer the potato and onion to a food processor or blender. Add the roasted garlic to the potato mix in the food processor. Puree until smooth.
Add the potato puree to the soup liquid in the Dutch oven. Add salt and pepper to taste. Simmer an additional 10 minutes. When ready to serve, ladle soup into individual serving bowls. Sprinkle with a fresh grating of Dry Jack cheese.
Here are some other fun recipes using potatoes:
Potato and Pea Curry Wraps by Within the Kitchen.
Roasted Potato Leek Soup by Pink Parsley.
Hello! We hope you made and enjoyed this recipe provided by Awake at the Whisk! Please note that all photos and content are copyright protected. Please do not use our photos without prior written permission. If you wish to republish this recipe, please rewrite the recipe in your own unique words and link back to Potato & Roasted Garlic Soup on Food Literacy Center's website. Thank you!​
Related Links