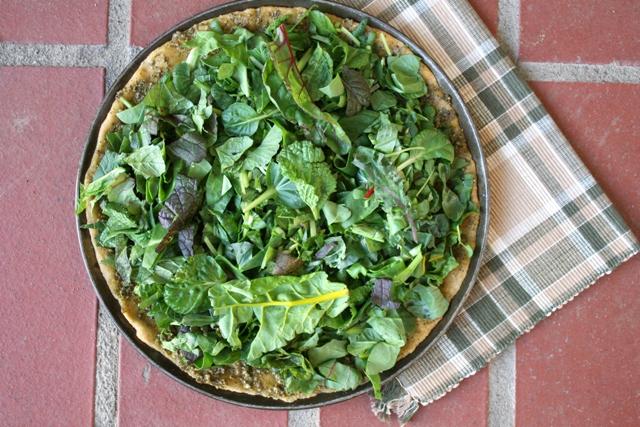 Pesto & Greens Pizza
Leafy greens are vital to maintaining our health, yet the majority of our kids don't eat enough of them. One easy way to eat more greens is to add them to pizza! It's especially tasty with a pesto sauce. Place chopped greens under the cheese, and they steam while the pizza cooks. Other toppings that pair well with greens: onions, sauteed mushrooms, olives, fresh tomato, and bell pepper. Pro tip: add extra toppings on top of the cheese to roast instead of steam while the pizza cooks.
Pesto & Greens Pizza Recipe
Yield: 1 pizza, serves 4
Supply List
Printable Recipe
Video tutorial: Facebook or YouTube
Ingredients:
1 pizza dough (try this Whole Wheat Pizza Dough recipe)
2-3 cups seasonal leafy green vegetables, chopped*
1/2 a large red onion, thinly sliced
4-5 Tablespoons fresh pesto (try this Carrot Top Pesto recipe)
8 oz. shredded parmesan cheese
2 teaspoons crushed red pepper, optional
*seasonal leafy green vegetable options: arugula and swiss chard in summer, kale and collards in winter
Instructions for Adults
Preheat oven to 500 degrees. Place pizza dough on a lightly greased baking sheet. Bake in preheated oven for 4 minutes. Remove from oven and let kids add toppings.
Return pizza to oven for 10 to 12 minutes, or until cheese is beginning to brown and bubble. Remove from oven and allow to cool for about 5 minutes. Slice and serve.
Instructions for Kids
Slice leafy green vegetables and red onion. Set aside.
Spread pesto evenly over surface of pizza.
Add greens in a mound on top of pesto, spreading evenly over the surface of the pizza.
Add cheese, spreading evenly over the surface of the greens.
Sprinkle the onion slices over the cheese.
Sprinkle with red pepper, optional
Hello! We hope you made and enjoyed this recipe provided by Awake at the Whisk!​ Please note that all photos and content are copyright protected. Please do not use our photos without prior written permission. If you wish to republish this recipe, please rewrite the recipe in your own unique words and link back to Pesto & Greens Pizza on Food Literacy Center's website. Thank you!
Related Links