Recipe
Food Literacy Center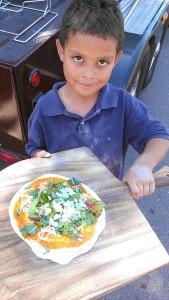 Whole Wheat Pizza Dough
This recipe is not only cheaper than buying pizza, but it's a great way to show your kids that you can make something just as good (if not better) than store-bought, right at home!
Whole Wheat Pizza Dough
Yield: dough for 1 large pizza
Printable Recipe
Ingredients
¾ cup warm water
2 teaspoons active dry yeast
1 teaspoon organic sugar
2 cups whole wheat flour, divided
1/4 cup cornmeal
1 ½ teaspoons salt
2 Tablespoons extra virgin olive oil
Instructions for Kids
In a small dish, combine warm water, yeast, and sugar. Set aside for about 5 minutes until it foams. (If it doesn't foam, dump it out and start again.) In a large mixing bowl, combine salt, 1 cup flour, and cornmeal. Stir to combine. Add the yeast mixture and olive oil. Stir to combine.
Add more flour until you have an elastic dough that no longer sticks to your hands. Do not knead it yet! The glutens in whole wheat flour have to rest a moment before you knead. Instead, cover it with a moist towel for about 15 minutes.
After the dough has rested, knead on a floured surface for about 8 minutes. This dough will make one large pizza, two medium pizzas, or four individual pizzas. Divide your dough according to your needs. Then cover each in a separate bowl with a bit of olive oil to coat and prevent from sticking. Cover the bowl with a moist towel.
Let the dough rise for at least 1 hour. Instead of punching the dough down, immediately roll it for your pizza. Place rolled dough on a pizza pan that has been greased.
Instructions for Adults
Par-bake in preheated 500-degree oven for 4 minutes. At this stage, you can either add toppings and continue to make your pizza, or freeze the cooked dough for later use.
Hello! We hope you made and enjoyed this recipe from our Your Sandwich Can Save the World! Food Literacy Curriculum! Please note that all photos and content are copyright protected. Please do not use our photos without prior written permission. If you wish to republish this recipe, please rewrite the recipe in your own unique words and link back to Pizza Dough on Food Literacy Center's website. Thank you!
Related Links