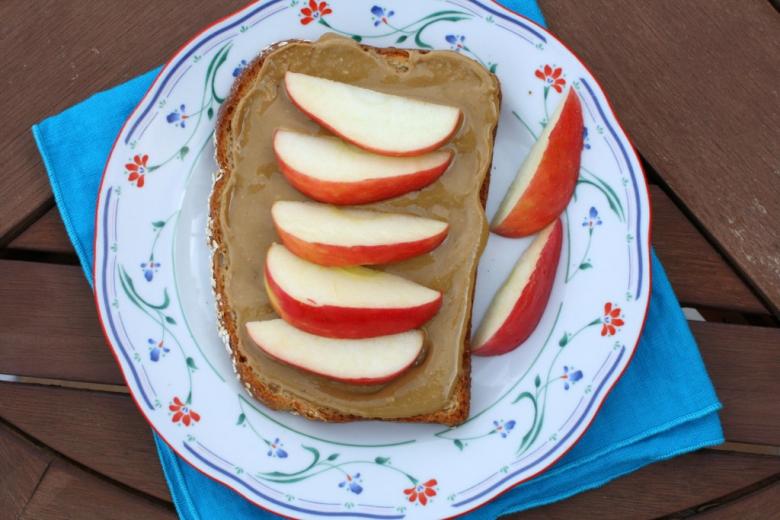 Food Literacy Sandwich: Sunflower Seed Butter & Apple Sandwich
It's Food Literacy Month! We're inviting restaurants and bloggers to help us spread the word about Food Literacy Month with their own versions of a Food Literacy Sandwich. We're also inviting kids to submit their own recipes in a contest. Let the food literacy love begin! Here's our signature version of a Food Literacy Sandwich, which we make in class with K-5th graders.
Kids (and adults) will enjoy the sweet nutty flavor of sunflower seed butter combined with the sweet-tart crunch of the apple slices. This is a delicious, hearty sandwich that is packed full of protein, fiber and vitamins. Sunflower seed butter is a great alternative for peanut butter, serving as a replacement spread in recipes given to children with nut allergies.
We made these sandwiches with 100 K-5th grade students at a local charter school. Read all about what the kids thought of the sandwich in our curriculum update.
Yield: 1 sandwich
Ingredients:
2 slices whole wheat bread
2 Tablespoons sunflower seed butter
4 apple slices
Instructions:
Place one slice of bread on a plate.
Use a butter knife to spread the sunflower seed butter evenly over the slice of bread.
Top the sunflower seed butter with apple slices by laying them in an even layer.
Lay the second slice of bread on top of the apple slices.
Watch this great video of a child making a peanut butter and apple sandwich from Simply Recipes. 
Here's a Food Literacy Sandwich roundup from participating bloggers:
Our founder, Amber Stott from her blog Awake at the Whisk, makes a Food Literacy Sandwich of Garden Pesto Tomato & Egg.
Susan can Cook makes Ginger Turkey & Wasabi Slaw Sliders.
Stay at Home FOODIE builds an ABC Sandwich that her kids are begging for.
Our good friends at Caveman Food created a hummus pita.
Our board member, Jillena, made a vegan torta on her blog, Eat Well, Live Free.
Hello! We hope you made and enjoyed this recipe from our Your Sandwich Can Save the World! Food Literacy Curriculum! Please note that all photos and content are copyright protected. Please do not use our photos without prior written permission. If you wish to republish this recipe, please rewrite the recipe in your own unique words and link back to Sunflower Seed Butter & Apple Sandwich on Food Literacy Center's website. Thank you!
Your Sandwich Can Save the World! Food Literacy Curriculum. 
© 2016 Food Literacy Center. All rights reserved. Do not copy or share without written permission.
Related Links