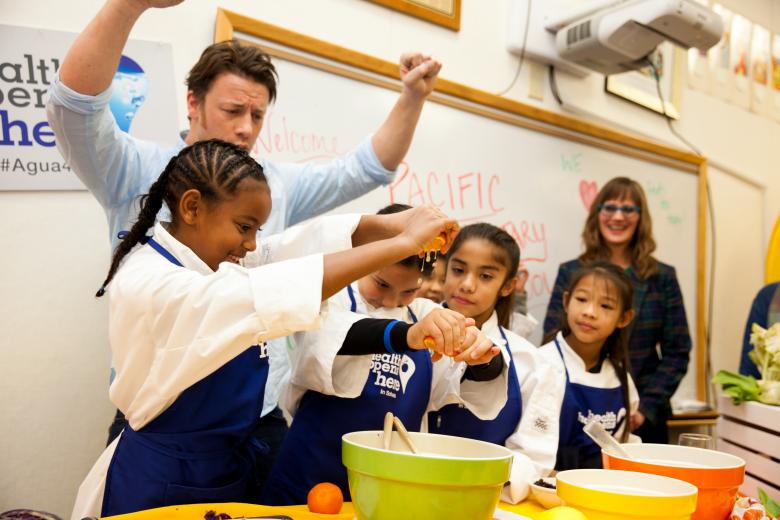 5 Recipes for Jamie Oliver
When three famous chefs planned to visit our city, we relished the chance to showcase our student's cooking skills and knowledge of food! Yesterday, Jamie Oliver, Ann Cooper, and Alice Waters joined Food Literacy Center for a luncheon prepared by kids, Food Literacy Geniuses in our food literacy programs, and Food Champions from Jamie Oliver Food Foundation. For the menu we used local, seasonal food from Produce Express, the Sacramento Food Bank and Soil Born Farms – food our kids' families have access to. We also featured food sourced for school lunch by Sacramento City Unified School District.

This creamy soup is simple and inexpensive to make, filling to eat. It's a staple soup in Ecuador. A silky potato base is studded with freshly ground black pepper, the pop of fresh corn kernels and garnished with velvety avocado bites and crumbled cotija cheese.

One of our most popular dishes with kids, and an award-winning recipe, featuring sweet potato, black beans, and sweet corn!

Farmers Market Carrot & Raisin Citrus Salad
A fun way to get your kids to eat more veggies is to get them involved with making this ultra-colorful salad. The colors, crunch, and natural sweetness of the carrots, cabbage and orange juice are a draw for the kids too. This salad is packed with vitamins, antioxidants, fiber, and flavor! Great for kids and for the entire family.
Asian Honey Soy Brown Rice Salad
This salad is easy to whip together, yet so incredibly tasty and nutritious! Your body will be nourished from the complex carbohydrates from the brown rice, and the vitamins and antioxidants from the fruit and vegetables. Your taste buds will certainly enjoy the complex flavors from the simple dressing and the sweet crunch of the fresh vegetables!

This refreshing recipe is one we used with our food literacy students. It celebrates citrus season which, contrary to popular belief, is in the cooler months. Happy winter!
Related Links