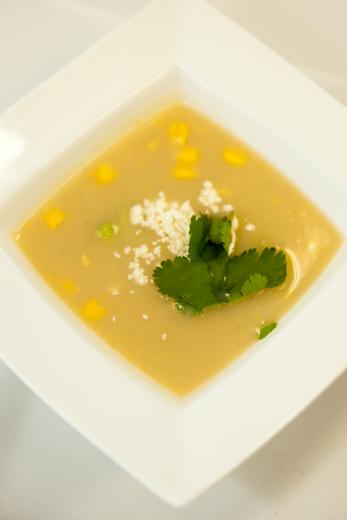 Locro de Papas
This creamy soup is simple and inexpensive to make, filling to eat. It's a staple soup in Ecuador. A silky potato base is studded with freshly ground black pepper, the pop of fresh corn kernels and garnished with velvety avocado bites and crumbled cotija cheese.
Yield: 8 servings
Locro de Papas
Ingredients:
1/4 cup olive oil
1 medium yellow onion, diced
2 pounds Russet potatoes (about 5 medium), peeled and cubed
4 cups vegetable stock
2 cups fresh or frozen sweet corn
Salt & pepper to taste
1-2 avocados, peeled and cubed
1/4 cup crumbled cotija cheese
2 limes, cut into wedges
Instructions for adults:
Heat a large stockpot over medium-high heat. Add olive oil and diced onion. Peel and dice the potatoes.
Instructions for kids:
With adult supervision and using a long-handled wooden spoon, help stir the onions cooking in the stockpot until they are translucent and tender, about 5 minutes, stirring occasionally. Ask an adult to remove the stockpot from the heat.
Add the peeled and diced potatoes to the stockpot. Pour the vegetable stock into the pot.
Instructions for adults:
Return the pot to the stovetop over high heat. Bring to a boil, then cover and turn to low heat to simmer for about 20 minutes, until the potatoes are fork-tender. Remove the pot from the stovetop. Allow to cool about 5-10 minutes.
Instructions for kids:
Using an immersion blender with the help of an adult, blend the ingredients in the stockpot until creamy. Add salt and black pepper to taste and stir until blended. If the soup is too thick, you can add more stock or water. Add the frozen or fresh corn and stir with a spoon until incorporated.
Instructions for adults:
Simmer soup for about 10 minutes more on a low stovetop until warm enough to serve. Serve the soup alongside dishes of diced avocado, crumbled cotija cheese, and lime wedges. Invite everyone to garnish their own soup.
Hello! We hope you made and enjoyed this recipe from our Your Sandwich Can Save the World! Food Literacy Curriculum! Please note that all photos and content are copyright protected. Please do not use our photos without prior written permission. If you wish to republish this recipe, please rewrite the recipe in your own unique words and link back to Locro de Papas on Food Literacy Center's website. Thank you!
Related Links