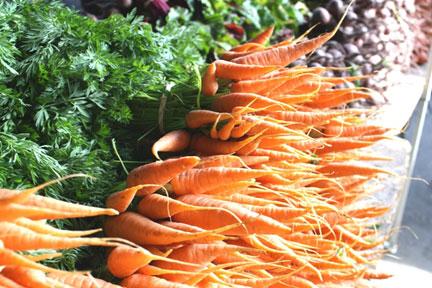 Grandma Betty's Carrot & Raisin Citrus Salad
A fun way to get your kids to eat more veggies is to get them involved with making this ultra-colorful salad. We made this salad with 120 kids at Capitol Heights Academy and they absolutely enjoyed creating their own plates. The colors, crunch, and natural sweetness of the carrots, cabbage and orange juice are a draw for the kids too. This salad is packed with vitamins, antioxidants, fiber, and flavor! Great for kids and for the entire family.
Grandma Betty's Carrot & Raisin Citrus Salad
Ingredients:
1/4 cup carrots, peeled and grated
1/4 cup purple cabbage, shredded
2 Tablespoons raisins
1 Tablespoon orange juice, or juice from half a large orange, squeezed
Instructions for parents/teachers:
Peel and grate the carrots. Use a knife to shred the cabbage.
Instructions for kids:
Put the carrots, cabbage, and raisins in a medium serving bowl. Pour the freshly squeezed orange juice over top. Toss together. Eat!
Yield: 1 side salad
Hello! We hope you made and enjoyed this recipe provided by Awake at the Whisk! Please note that all photos and content are copyright protected. Please do not use our photos without prior written permission. If you wish to republish this recipe, please rewrite the recipe in your own unique words and link back to Grandma Betty's Carrot & Raisin Citrus Salad on Food Literacy Center's website. Thank you!
Related Links