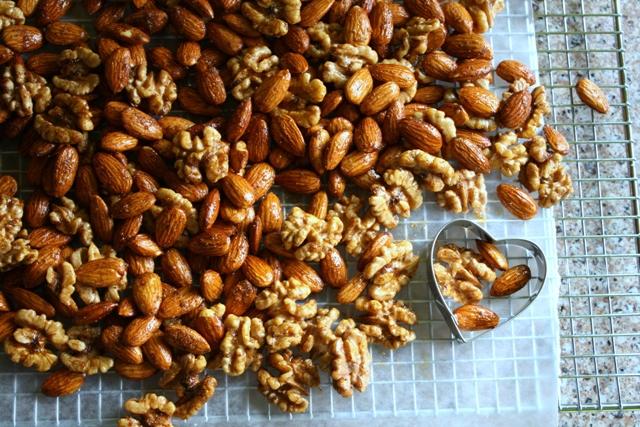 Warm Spiced Nuts
Warm the heart of your loved one with this fast, easy last-minute Valentine treat. There's nothing better than a shared cup of warmed nuts kissed with heat and a hint of sweet to spice your night.
Your sweetheart will know you care, because nuts are packed with heart-healthy omega 3 fatty acids. Grab a bowl and cuddle up!
Yield: Serves 4 cups of spices nuts
Warm Spiced Nuts
Ingredients:
1 teaspoon salt
1 teaspoon sugar
1 teaspoon garlic powder
2 teaspoons ground cumin
2 teaspoons ground chipotle chili powder
2 teaspoons chili powder
2 cups whole almonds, unsalted
2 cups walnut halves, unsalted
2 Tablespoons butter
Instructions:
Combine salt, sugar, and spices in a small dish. Set aside.
Heat a large skillet over medium heat. Place the nuts in the skillet and roast, stirring occasionally, until they start to brown, about 4 minutes.
Add the butter and 1 Tablespoon of the spice mixture to the skillet. As the butter melts, stir the nuts to coat with the butter and spices. Continue until the nuts are thoroughly coated, about 3 minutes more.
Remove from heat. Spread the warm nuts on a wax paper lined cooling rack to cool. After 3 minutes, serve.
The remaining nuts can be stored when completely cool in an airtight container for a few weeks.
You will extra spice mixture remaining. This will keep for a few months stored in an airtight container, and can be used on popcorn or other snack mixes.
Hello! We hope you made and enjoyed this recipe from our Your Sandwich Can Save the World! Food Literacy Curriculum!​ Please note that all photos and content are copyright protected. Please do not use our photos without prior written permission. If you wish to republish this recipe, please rewrite the recipe in your own unique words and link back to Warm Spiced Nuts on Food Literacy Center's website. Thank you!
Related Links