Recipe
Food Literacy Center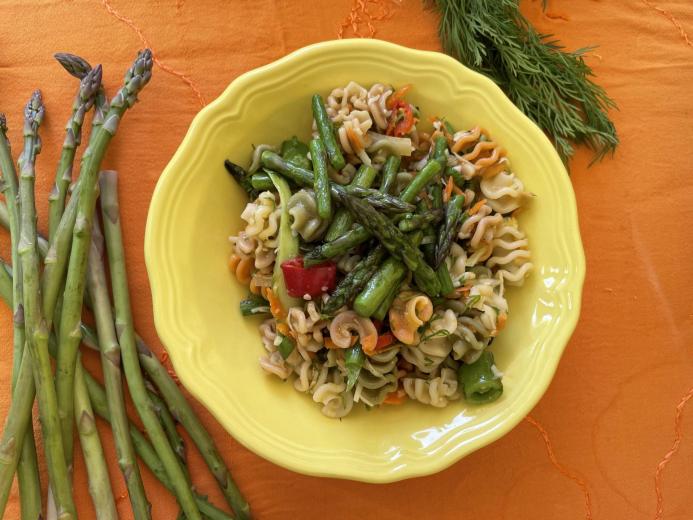 Veggie Basics: Asparagus Pasta Salad
Asparagus is a tender, crisp and sweet spring vegetable. It can be eaten raw or cooked. This simple recipe using the best of spring veggies and asparagus prepared two ways.
Asparagus Pasta Salad Recipe
Yield: 8 cups
Supply List
Printable Recipe
Video tutorial: Facebook or YouTube
Ingredients
1 8 to 10-oz package pasta noodles, cooked
1 cup sauteed (recipe below) or shaved asparagus (or use 1/2 cup of each)
1/2 spring onion, minced
1/2 cup olives, pitted and chopped
1/2 cup pickled sweet peppers, such as pepperoncini
1/2 cup each of 3 seasonal Spring veggies*
Options: fresh snap peas, grated carrots, shelled & cooked fava beans
2 Tablespoons each fresh dill, parsley, basil, or other favorite herb, chopped
1 Tablespoon lemon zest
3/4 cup vinaigrette (such as Balsamic Vinaigrette)
Instructions for Adults
Assist kids with safe knife handling.
Instructions for Kids
Add cooked noodles to a large serving bowl. Add all of the other ingredients and mix to combine.
Sauteed Asparagus Recipe
Yield: 3 cups
Ingredients
1 bunch asparagus, about 1 lb.
1 Tablespoon olive oil
2 to 3 cloves garlic, minced
Salt & pepper to taste
Instructions for Adults
Assist kids with safe knife handling and using the stove top.
Instructions for Kids
Chop off the tough bottom ends of each piece of asparagus, or bend them to snap the ends off. Discard the ends. Continue cutting or snapping the asparagus into 2-inch pieces.
Heat the olive oil in a saute pan over medium high heat. Add the minced garlic and saute for 1 minute, until it starts to smell really good, but is still white in color (don't let it brown yet).
Add the pieces of asparagus. Saute for another 3 to 4 minutes, just until bright green in color. Turn off the heat. Add salt and pepper to taste. Stir and serve.
Hello! We hope you made and enjoyed this recipe from our Your Sandwich Can Save the World! Food Literacy Curriculum! Please note that all photos and content are copyright protected. Please do not use our photos without prior written permission. If you wish to republish this recipe, please rewrite the recipe in your own unique words and link back to the Asparagus Pasta Salad Recipe on Food Literacy Center's website. Thank you!
Related Links