Recipe
Food Literacy Center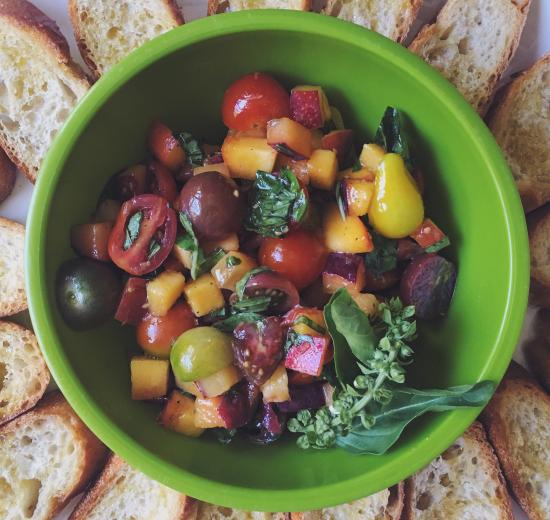 Stone Fruit Bruschetta with Balsamic Honey Reduction
Try this summer fruit spin on classic bruschetta. The kids will love making it, and eating it too!
Stone Fruit Bruschetta
Ingredients:
Crostini or sliced baguette, toasted
1 clove of garlic, smashed
1 bunch of fresh basil, chopped or torn
3 Tablespoons of olive oil
5 cups small tomatoes (cherry or grape tomato), quartered
2 large peaches or nectarines, cut into small cubes
3 plums or apricots, cut into small cubes
4 Tablespoons of olive oil
Zest of 1 lemon
Salt and pepper to taste
3/4 cup honey balsamic reduction (recipe attached)
Instructions for kids:
Lay sliced bread or crostini onto serving plates. Peel garlic, smash (try using the back of spoon or bottom of a cup) and put aside. Tear basil into small pieces, set aside.
Instructions for adults:
Slice tomatoes and fruit, set aside. Heat 3 Tablespoons of olive oil over medium-low heat in small saucepan. Add smashed clove of garlic to hot oil. Stir garlic frequently and cook for 1-2 minutes or until golden brown and fragrant. Remove garlic clove from pan and let oil cool.
Instructions for kids:
Brush garlic oil onto bread, set aside. In a separate large mixing bowl, add sliced tomatoes, cut fruit, and torn basil. Measure 4 Tablespoons of olive oil and drizzle over tomatoes and fruit, add lemon zest, salt, and pepper. Gently mix ingredients until combined. Spoon fruit mixture on top of baguette. Using a spoon, drizzle honey balsamic reduction over bruschetta. Serve immediately and enjoy!
Balsamic Honey Reduction
Ingredients:
1 cup balsamic vinegar
1/4 cup honey
Instructions for kids:
Measure balsamic vinegar and honey into separate measuring cups, pour into small saucepan.
Instructions for adults:
Using whisk or wooden spoon, stir vinegar and honey in saucepan over high heat. Bring mixture to a boil, about 1 minute or until consistently bubbling. Reduce heat to low, simmer uncovered until reduced by half and thick, about 10 minutes. Pour into serving dish and set aside to cool.
Drizzle on top of stone fruit bruschetta or on your favorite salad!
Hello! We hope you made and enjoyed this recipe from our Your Sandwich Can Save the World! Food Literacy Curriculum! Please note that all photos and content are copyright protected. Please do not use our photos without prior written permission. If you wish to republish this recipe, please rewrite the recipe in your own unique words and link back to Stone Fruit Bruschetta with Balsamic Honey Reduction on Food Literacy Center's website. Thank you!
Related Links