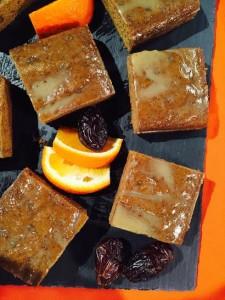 Sticky Toffee Cake
Enjoy this tasty cake featuring Medjool dates!
Yield: 1 – 9" cake [Toffee Cake]
Preheat oven to 350F. Make a parchment sling for a 9" square cake pan and place in pan; spray exposed metal sides and parchment w/pan spray. Set pan into a large roasting pan for a water bath.
Sticky Toffee Cake
Ingredients:
8 oz whole pitted Medjool dates (about 12-13 dates), cut crosswise into thirds
¾ c hot coffee
½ t baking soda
¾ c light brown sugar
½ t kosher salt
2 eggs, room temp
4 T unsalted butter, melted
1 t vanilla
1-1/4 c all purpose flour
½ t baking powder
Instructions:
Place dates in a heatproof bowl. Combine hot coffee and baking soda and pour over dates. Let sit 5 min.
Transfer dates and liquid to a food processor. Add brown sugar and salt and process about 30-45 seconds until dates are pureed, scraping bowl once. Add eggs, butter and vanilla and process about 15 seconds until smooth.
Transfer mixture to a mixing bowl. Combine flour and baking powder and sieve half of dry mixture over puree. Whisk to incorporate. Sieve remaining half of dry ingredients over puree and whisk to incorporate. Pour mixture into prepared pan and smooth top. Add hot water to roasting pan to come up level of batter in pan. Cover tightly with foil and bake 30 min.
Meanwhile, prepare coffee-rum butterscotch sauce. When cake has baked 30 min. remove from oven. Discard foil. Poke cake about 100X with a toothpick or skewer. Pour about 1/3 c of the hot sauce over the top of the cake, spreading to cover entire surface. Return to the oven and bake an additional 10 min. until top is firm to the touch. Remove from oven and let sit in water bath until cool enough to handle, at least 30 min before serving. Cake can also be cooled in water bath to room temp., then removed from water bath, wrapped and refrigerated. Rewarm cake before serving.
Coffee-Rum Butterscotch Sauce
Yield: Enough for a 9" cake
Ingredients:
1 c heavy cream
1 T coffee beans, cracked
4 T unsalted butter
1 c light brown sugar
¼ t kosher salt
1 T dark rum
½ t lemon juice
Instructions:
Combine cream and coffee beans in a saucepan. Heat over medium-high heat until cream is steaming. Set aside, cover and let steep about 30 min.
In another saucepan melt the butter. Add the brown sugar and salt. Cook and stir over medium-high heat until sugar is bubbling and smooth. Add half of the cream and beans; whisk to incorporate. Add remaining cream, beans and rum; whisk to incorporate. Heat to just boiling. Remove from heat and whisk in lemon juice. Strain to remove beans. Serve hot.
Hello! We hope you made and enjoyed this recipe from our Your Sandwich Can Save the World! Food Literacy Curriculum! Please note that all photos and content are copyright protected. Please do not use our photos without prior written permission. If you wish to republish this recipe, please rewrite the recipe in your own unique words and link back to Sticky Toffee Cake on Food Literacy Center's website. Thank you!
Related Links