Recipe
Food Literacy Center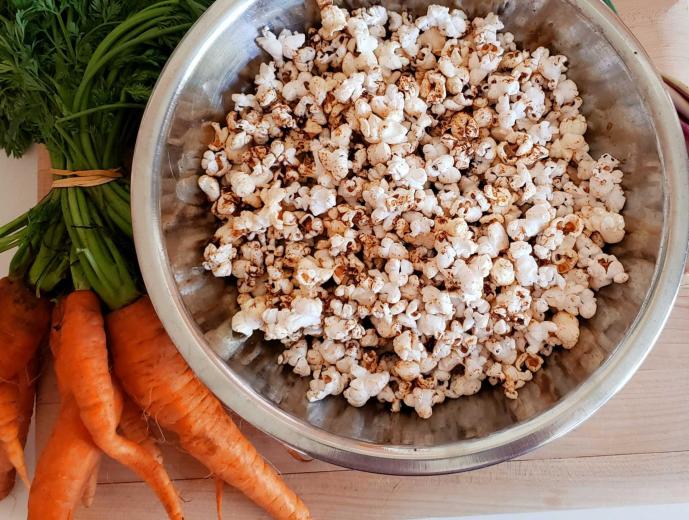 Southwest Popcorn
Popcorn is a great way to eat a whole grain and it's a delicious snack! Our Southwest Popcorn Recipe is a little sweet, a little spicy and just yummy.
Southwest Popcorn Recipe
Yield: ~2 Tablespoons
Supply List
Printable Recipe
Video tutorial: Facebook or YouTube
Ingredients:
1/2 Tablespoon sugar
1/2 teaspoon garlic powder
1 teaspoon ground cumin
1 teaspoon ground chipotle chili powder
1 teaspoon chili powder
1 heaping bowl of popped popcorn
Olive oil (optional)
Salt to taste
Instructions for Kids
Combine sugar, garlic powder, cumin and chili powders in a glass jar. Place lid on jar and shake to combine.
Lightly sprinkle the popcorn seasoning to taste onto a large bowl of popped popcorn–we like ours drizzled with olive oil, too. Start with ½ teaspoon and add more if you want it. Stir or shake to combine. Salt to taste. Serve warm.
The remaining popcorn seasoning will stay fresh in the jar for several months, providing you with an easy go-to snack seasoning.
Hello! We hope you made and enjoyed this recipe from our Your Sandwich Can Save the World! Food Literacy Curriculum! Please note that all photos and content are copyright protected. Please do not use our photos without prior written permission. If you wish to republish this recipe, please rewrite the recipe in your own unique words and link back to Southwest Popcorn Recipe on Food Literacy Center's website. Thank you!
Related Links