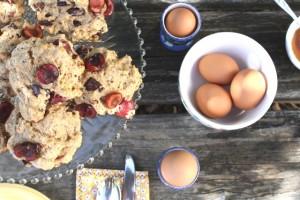 Soft-Boiled Eggs
Soft-boiled eggs are a quick way to cook a low-cost, protein-rich breakfast. In fact, soft-boiled eggs are great any time of day! These taste best when made with farm-fresh eggs purchased at the farmers' market.
Soft-Boiled Eggs
Ingredients:
Eggs, as needed
Instructions:
Bring a pot of water to a rolling boil.
Have on hand a medium bowl filled halfway with water and a few ice cubes. (When the eggs are done cooking, you'll submerge them here.)
Using a large, slotted spoon, lower whole eggs into the boiling water. Keep the eggs in a single layer. (If you are making a lot, make them in batches.)
Cover the pan with a lid and continue to boil the eggs for 4 minutes and 30 seconds.
When the eggs are done, remove them from the boiling water with the slotted spoon and place them in the ice water for about 1 minute. You want them to come down to a cooler temperature so you can touch them, yet they should still be warm. (No one wants to eat a cold soft-boiled egg.)
Place one egg in an egg cup to serve.
To eat, gently cut the top tip of the egg off with a knife. Use a spoon to scoop out the remaining egg from the eggshell.
Hello! We hope you made and enjoyed this recipe provided by Awake at the Whisk! Please note that all photos and content are copyright protected. Please do not use our photos without prior written permission. If you wish to republish this recipe, please rewrite the recipe in your own unique words and link back to Soft-Boiled Eggs on Food Literacy Center's website. Thank you!
Related Links