Recipe
Food Literacy Center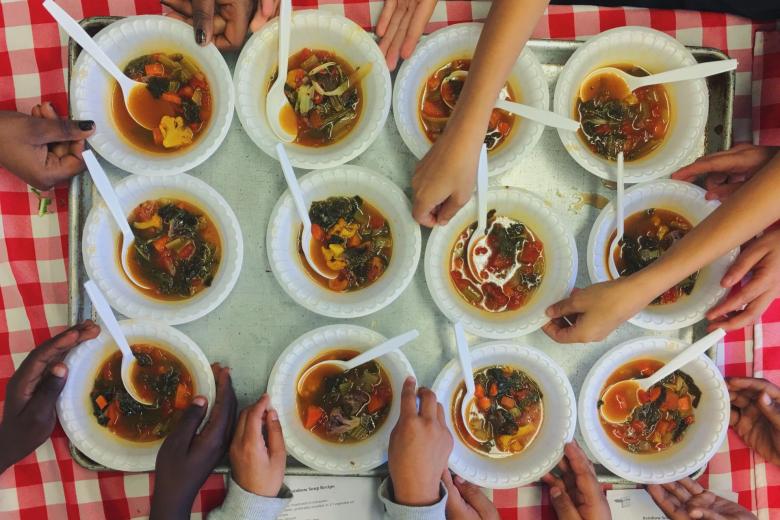 Rainbow Soup
This delicious and colorful soup tastes like it takes hours to make, yet is ready to eat in just 30 minutes. Made with potatoes, kale, celery, veggies & quinoa, it's every kids' favorite meal.
"It tastes good and this is the best soup I've ever tasted." - Food Literacy Student
Rainbow Soup Seasoning Packet Recipe
Yield: one seasoning packet
Printable Recipe in English
Printable Recipe in Spanish
Printable Recipe in Hmong
Video of Recipe
Ingredients
3/4 teaspoon sweet paprika
1/2 teaspoon kosher salt
1/2 teaspoon ground cumin
1/2 teaspoon ground coriander
1/4 teaspoon ground black pepper
1/4 teaspoon ground cinnamon
1/4 teaspoon ground ginger
1/8 teaspoon ground cayenne pepper
Instructions for Adults
Assist where needed.
Instructions for Kids
Combine all of the above ingredients in a small dish or bag. Store in a cool, dry place. The seasoning will keep for several weeks.
Rainbow Soup Recipe
Yield:4 servings of 2 cups
Ingredients
1 cup onion, about 1 small onion
1 cup celery, 2-3 stalks
1 cup carrots
1 cup cauliflower, 1/4 of a head
2 cups potatoes
2 garlic cloves, minced
2 cups chard or other greens
2 Tablespoons vegetable oil
1 Rainbow Soup Seasoning Packet
1/2 cup quinoa, rinsed in cold water
1 can (14.5 oz) low sodium diced tomatoes, with liquid
8 cups water
Salt and pepper to taste
Instructions for Adults
Control heat and tend to the pot, and assist kids with stirring the pot.
Instructions for Kids
Dice onions, celery, carrots, cauliflower & potatoes into 1/4-inch cubes. It's important to cut everything the same size. Use food chopper or knife to mince garlic. Tear or chop chard leaves into ribbons; dice the chard stems.
In a 6-8 quart stock pot, heat vegetable oil over medium heat. Add all diced vegetables and garlic, except chard leaves. Add contents of the Rainbow Soup Seasoning Packet. Cook over medium heat, stirring occasionally, for 5 minutes.
Turn heat to high, quickly stir in quinoa, canned tomatoes (including liquid), and water. Partially cover and bring just to a boil. Reduce heat and simmer for 15 minutes, partially covered, stirring occasionally.
Add the chard and continue to simmer for 5 minutes, partially covered. Add salt and pepper to taste. Ladle soup from the bottom of the pot to include quinoa. Serve and enjoy!
Hello! We hope you made and enjoyed this recipe from our Your Sandwich Can Save the World! Food Literacy Curriculum! Please note that all photos and content are copyright protected. Please do not use our photos without prior written permission. If you wish to republish this recipe, please rewrite the recipe in your own unique words and link back to Rainbow Soup on Food Literacy Center's website. Thank you!
Related Links