Recipe
Annelies Zijderveld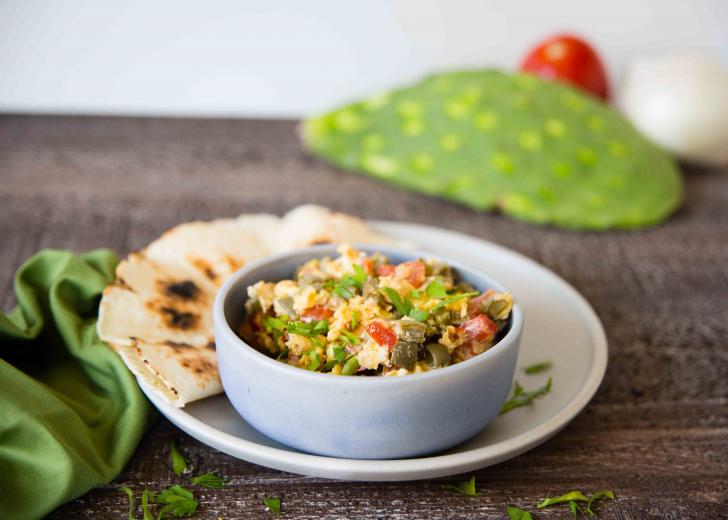 Nopales Scramble
Vegetable scrambles are a great way to try a new-to-you veggie and are sometimes the right way to introduce new foods into the mouths of little ones. Getting kids to eat their vegetables is a snap pea when the vegetable recipe is this tasty! We have a hunch that they won't say no to nopales - the 2016 Veggie of the Year! Tucked into a tortilla and perhaps some salsa or hot sauce drizzled on top is all you need to serve them as breakfast tacos.
You can find nopales in Mexican groceries, sold several ways: whole cactus paddles with thorns, whole paddles without thorns, and chopped paddles. You can guess which of these is the most expensive and it's easy to remove nopales thorns and chop them yourself.
YIELD: 3 servings ( 1/2 cup each)
Ingredients
1 nopal (cactus paddle), thorns removed (about 3/4 cup)
1 tablespoon olive oil
1/4 white onion, minced (about 1/4 cup)
1 Roma tomato, small chopped (about 1/2 cup)
1/2 teaspoon kosher salt
Dash of black pepper
2 large eggs
2 tablespoons milk
Chopped fresh cilantro or Italian parsley leaves, optional
Instructions for Parents / Teachers
Use a chef knife to remove the thorns on the nopal paddle by slipping the knife under the skin of each thorn and peeling it. Slice the de-thorned nopal into long strips and then cut each strip so you get a small dice. Mince the onion. Chop the tomatoes. Chop the cilantro leaves.
Instructions for Kids
1. Fill a medium-sized saucepan 3/4 of the way with water. Bring it to a boil. Add the nopal to the saucepan, boiling for 20 minutes when the color of the nopales changes to a dull green. Strain the nopal. Run cold water over it until cool to the touch. Pat the nopales dry with paper towels.
2. Pour the oil into a skillet set over medium heat. Saute the onion until almost translucent, about 4 minutes. Add the tomatoes, nopales, cilantro, salt, and pepper to the skillet. Saute for 4 minutes more or until the tomatoes have broken down and softened a bit.
3. Whisk the egg and milk. Pour into the skillet. Scramble the eggs until cooked. Sprinkle the cilantro or parsley leaves on top if using. Serve with tortillas.
Hello! We hope you made and enjoyed this recipe provided by Annelies Zijderveld. Please note that all photos and content are copyright protected. Please do not use our photos without prior written permission. If you wish to republish this recipe, please rewrite the recipe in your own unique words and link back to Nopales Scramble on Food Literacy Center's website. Thank you!
Related Links