Recipe
Heather Teoh of Eat the Wind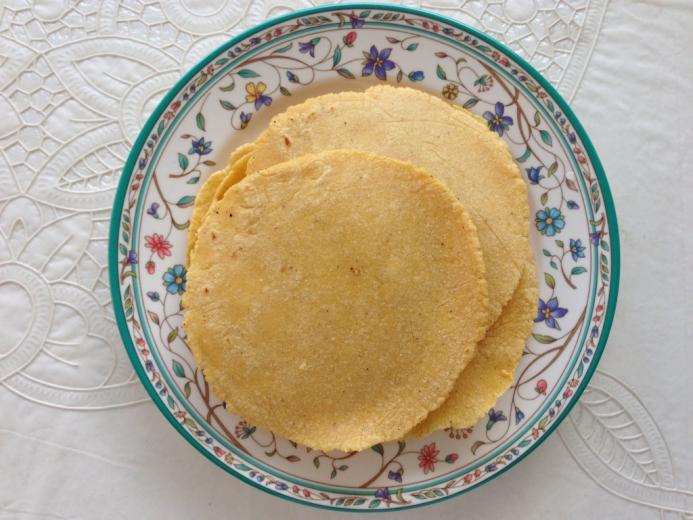 Homemade Corn Tortillas
There's something about freshly made corn tortillas. Their texture and flavor surpass that of store-bought tortillas, and they help to add authenticity to any Mexican meal. Homemade corn tortillas are incredibly easy to make, even without a tortilla press! In no time at all, you can be dining on tacos, huevos rancheros or even homemade chips.
Homemade Corn Tortillas Recipe
Yield: 12 tortillas
Ingredients:
2 cups masa harina corn flour (I used Bob's Red Mill Natural Foods)
½ teaspoon salt
1 ½ cups hot water
Instructions:
Mix the masa harina and salt together. Then slowly add the hot water and mix with a fork. If it's too dry, add a little more water.
When everything is mixed together, use your hands and form into a ball. It should be firm and springy, not dry and falling apart.
Cover it and set it aside for an hour.
After an hour, form 12 balls out of the dough (should be a little bigger than golf balls). If you have a tortilla press, this part will be so much easier. Just press it and heat it on a pan with medium heat, 1 minute or so on each side until cooked.
If you don't have a press, don't fret. Cover the back of a large heavy frying pan with cling wrap and place another strip of cling wrap on the counter. Press each ball down with the frying pan and proceed with heating them up on the frying pan.
Hello! We hope you made and enjoyed this recipe provided by Eat the Wind!​​ Please note that all photos and content are copyright protected. Please do not use our photos without prior written permission. If you wish to republish this recipe, please rewrite the recipe in your own unique words and link back to Homemade Corn Tortillas on Food Literacy Center's website. Thank you!
Related Links