Recipe
Food Literacy Center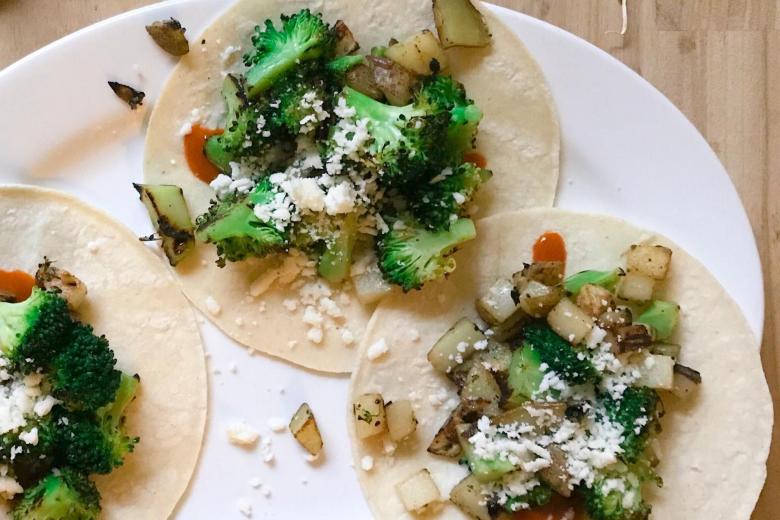 Broccoli & Potato Tacos
Our students put us to the test. As a joke, they asked us to make a broccoli taco taste good. We took on that challenge and created a taco that won rave reviews in our taste test. One student told us she made it five nights in a row with her family! We combine just three ingredients–broccoli, potatoes, and garlic–saute them just until browned, and top with hot sauce and cotija cheese.
Broccoli & Potato Tacos
Yield: 10 tacos
Printable Recipe in English
Printable Recipe in Spanish
Printable Recipe in Hmong
Video of the Recipe
Ingredients:
1 teaspoon olive oil
2 small potatoes, skin on
1 small broccoli crown and stem
2 cloves garlic
10 mini corn tortillas
1/4 cup cotija cheese, crumbled
Hot sauce, optional
Instructions for Adults
Assist with the safe operation of the hot plate/stove to saute veggie taco filling after kids chop. The filling includes: broccoli, potatoes, and garlic. Start by warming the pan for one minute over medium-high heat and adding olive oil.
Instructions for Kids
Using a kid-safe knife, chop the potato into 1/2-inch small dice and place in a bowl. An adult will help you add the potato to the warm pan and saute for 5 minutes. While it is cooking, chop the broccoli into 1/2-inch small dice and place in a bowl. Grate the garlic and add to the broccoli.
Add broccoli and garlic to the pan with the potatoes and continue to cook for 5 to 8 minutes until potatoes and broccoli are fork-tender and slightly browned.
Meanwhile, warm tortillas in a small pan or by placing in the microwave for 10 seconds. Use a box grater to grate the cotija cheese onto a plate.
To assemble, lay a warm tortilla flat on a plate. Top with 1/4 cup of sauteed vegetables. Sprinkle with 1 teaspoon of crumbled cotija cheese. Add 1/2 teaspoon hot sauce (optional). Repeat with remaining tacos. Eat and enjoy!
Hello! We hope you made and enjoyed this recipe from our Your Sandwich Can Save the World! Food Literacy Curriculum! Please note that all photos and content are copyright protected. Please do not use our photos without prior written permission. If you wish to republish this recipe, please rewrite the recipe in your own unique words and link back to Broccoli & Potato Tacos on Food Literacy Center's website. Thank you!
Related Links