Recipe
Food Literacy Center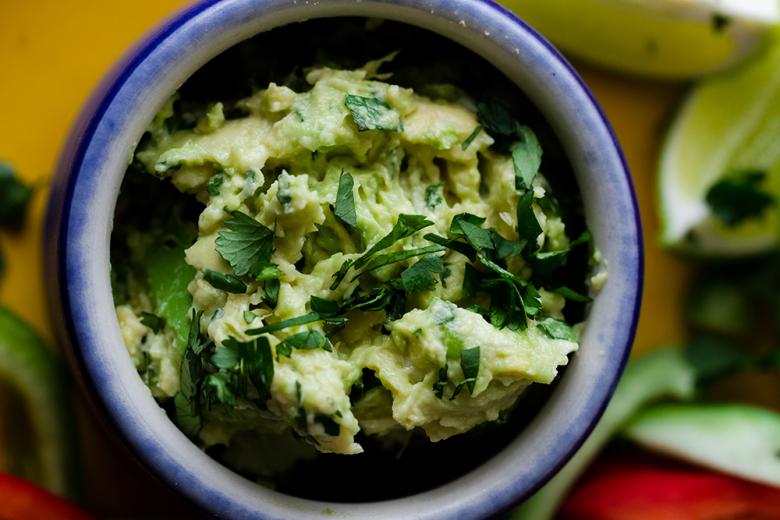 Guacamole
Kids will have a great time scooping and mashing the avocados in our simple guacamole recipe. Avocados, rich with healthy plant fats, are incredibly nutritious for a growing child. We kept our version of this recipe simple–use it as a spread on sandwiches, a taco topping, or enjoy it with veggie slices as a healthy snack.
Guacamole
Yield: 1 Cup
Printable Recipe in English
Printable Recipe in Spanish
Printable Recipe in Hmong
Video of the Recipe
Ingredients:
1 avocado, seed removed
1 Tablespoon cilantro
2 teaspoons green onion
2 wedges of lime or lemon
Salt and pepper to taste
Instructions for Adults
Cut the avocado in half and remove the seed. Assist kids as they use plastic knives to dice the other ingredients.
Instructions for Kids
Using a spoon, scoop the flesh out of the avocado and place in a bowl. Using a fork, mash the avocado until it's creamy, but still has small chunks.
Chop cilantro and green onion. Add the cilantro and onion to the mashed avocado. Cut the lime into wedges and squeeze 2 lime wedges over the mashed avocado.
Stir just to combine. Eat with tortilla chips or sliced veggies.
Hello! We hope you made and enjoyed this recipe from our Your Sandwich Can Save the World! Food Literacy Curriculum! Please note that all photos and content are copyright protected. Please do not use our photos without prior written permission. If you wish to republish this recipe, please rewrite the recipe in your own unique words and link back to Guacamole on Food Literacy Center's website. Thank you!
Related Links