Recipe
Food Literacy Center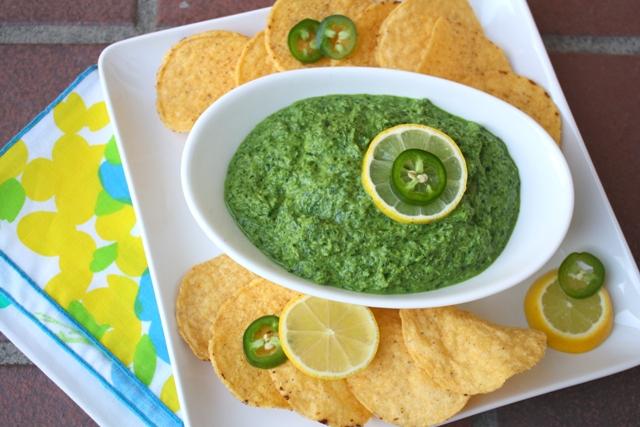 Green Dip
This Green Dip is a nutritious and kid-tested recipe that's bursting with flavor. We made this dip in our food literacy class and the kids loved it! They gobbled every morsel and even asked for second helpings.
Green Dip Recipe
This recipe is adapted from one of my favorite cookbooks: Viva Vegan! by Terry Hope Romero. This is adapted from her "So Good, So Green Dipping Sauce."
Ingredients:
1 to 2 jalapeño peppers, quartered and stems removed
1 large clove garlic, peeled
1/3 cup light mayonnaise
1 Tablespoon olive oil
Juice from one lime
1/4 of a large head of romaine lettuce, roughly chopped, tough ends removed
1 large handful of spinach leaves
1 cup cilantro leaves
3 whole green onions, roughly chopped, roots removed
Salt to taste
Farmers market ingredients: jalapeno, garlic, olive oil, lime, lettuce, spinach, cilantro, green onion
Supermarket ingredients: mayonnaise, salt
Instructions:
Combine all of the above ingredients in a food processor until well blended and creamy. Chill for 30 minutes before serving.
Yield: 2 cups sauce
Tips: This sauce makes a great chip dip for tortilla chips. It's also fantastic on fish tacos.
Hello! We hope you made and enjoyed this recipe from our Your Sandwich Can Save the World! Food Literacy Curriculum! Please note that all photos and content are copyright protected. Please do not use our photos without prior written permission. If you wish to republish this recipe, please rewrite the recipe in your own unique words and link back to Green Dip on Food Literacy Center's website. Thank you!
Related Links