Recipe
Food Literacy Center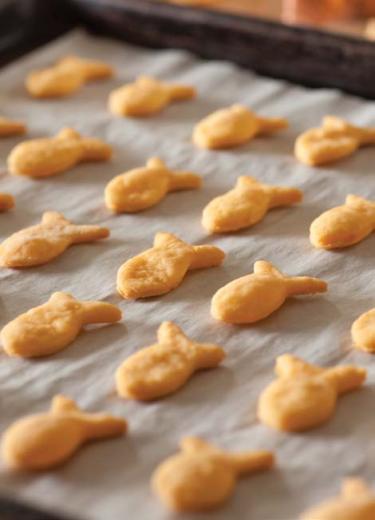 Goldfish Crackers
Goldfish Crackers are savory, cheesy and crispy! Kids (and adults) love these bite-sized golden treats. Why not make them at home? Recipe developer and food writer Casey Barber shows us how to make a homemade version of Goldfish Crackers from her new cookbook Classic Snacks Made from Scratch. Out in stores right now, the cookbook features 70 homemade version of classic snacks including Oreos, Twinkies and pizza rolls! Read the Q&A with Casey and learn her thoughts on her cookbook, home cooking and healthy meals!
Goldfish Crackers
from Classic Snacks Made from Scratch by Casey Barber
YIELD: 10 to 15 dozen crackers (depending on cookie-cutter size)
TOTAL TIME: 1 hour
SPECIAL EQUIPMENT: goldfish-shaped cookie cutter (find one at www.coppergifts.com)
Ingredients:
1 cup (4 ounces) very finely shredded sharp Cheddar cheese
1/2 cup (2 1⁄8 ounces) unbleached all-purpose flour
1/2 cup (2 1⁄8 ounces) cake flour
1 tablespoon Cheddar cheese powder (see page 12)
1 teaspoon kosher salt
1/2 teaspoon baking powder
1/4 teaspoon onion powder
1/4 cup whole or reduced-fat milk
1 tablespoon vegetable oil
Instructions for dough:
Stir the cheese, flours, Cheddar powder, salt, baking powder, and onion powder together in a large bowl until the cheese is evenly distributed and coated. Add the milk and vegetable oil and continue to stir with a spatula, then knead in the bowl with your hands until a cohesive dough forms. It will be crumbly at first, but continue to press and knead the dough until any dry bits are incorporated.
Transfer the dough to your work surface, cover with the upside-down bowl, and let rest for 10 minutes.
Instructions for crackers:
Preheat the oven to 375˚F. Line 2 baking sheets with parchment paper or Silpat liners.
Divide the dough into 2 pieces. Refrigerate one piece while you roll the second piece as thin as humanly possible, no more than ⅛ inch thick. (The thinner your dough, the crispier your crackers will be; thicker dough means puffier, more bread-like crackers.)
Stamp out cracker shapes with your cookie cutter of choice: a fish is the traditional shape, of course, but the crackers taste just as good as hearts, stars, circles, or small squares. Transfer the shapes to the prepared baking sheets.
Bake for approximately 15 minutes, until the crackers are crispy and just turning golden at the edges. The timing will vary according to the size and shape of your crackers.
Transfer to a wire rack and let cool completely.
The crackers will soften when kept in an airtight container, so they're best eaten within a day or two.
Hello! We hope you made and enjoyed this recipe from our Your Sandwich Can Save the World! Food Literacy Curriculum! Please note that all photos and content are copyright protected. Please do not use our photos without prior written permission. If you wish to republish this recipe, please rewrite the recipe in your own unique words and link back to Goldfish Crackers on Food Literacy Center's website. Thank you!​
Related Links