Recipe
Executive Chef Kurt Spataro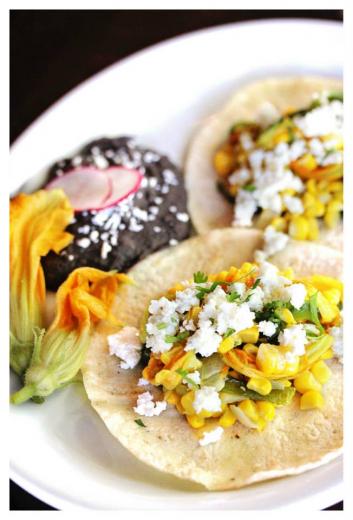 Corn Tacos
These tacos are bursting with flavor from the spiciness of the Poblano chiles, the sweetness of the corn kernels and the creaminess of ricotta. This delicious corn tacos recipe is created by Kurt Spataro, the Executive Chef of Paragary Restaurant Group in Sacramento.
Corn Tacos Recipe
Yield: Recipe makes about 10-12 tacos.
Ingredients:
3 Poblano chiles
1 medium white onion, thinly sliced
2 Tbsp Canola oil
2 cloves garlic, minced
1 cup whole milk ricotta
1 cup corn kernels
6-8 fresh squash blossoms, stems and stamens removed
1-2 Tbsp chopped cilantro
Fresh corn tortillas
Salt
Instructions:
Roast the chiles over an open flame until blackened all over. Let cool, then peel, seed, and cut into 1/4" strips.
Heat the oil in a saute pan over medium heat and add the onions. Cook until they begin to soften and then add the chile strips and garlic. After 3-4 minutes, add the corn and cook until just tender.
Tear the squash blossoms into 1" strips and toss with the corn mixture until they are just wilted. Season with salt. Heat tortillas on a griddle and spoon some the corn mixture in the center of each.
Place a dollop of ricotta on each taco and garnish with chopped cilantro. Tacos can also be garnished with a fresh salsa of your choice.
Hello! We hope you made and enjoyed this recipe provided by Executive Chef Kurt Spataro! Please note that all photos and content are copyright protected. Please do not use our photos without prior written permission. If you wish to republish this recipe, please rewrite the recipe in your own unique words and link back to Corn Tacos on Food Literacy Center's website. Thank you!
Related Links