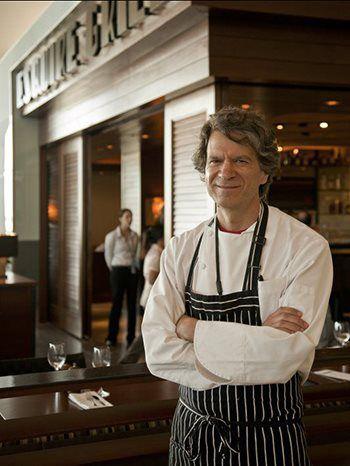 Kurt Spataro
Executive Chef
Kurt Spataro is a self-taught cook always searching for new things. He believes that his approach to both classic and modern cooking has many influences, Julia Child (The French Chef) and Graham Kerr (The Galloping Gourmet) are among them. And Kurt's experience with the food and culture of countries such as Italy, France, Mexico, Japan, Hong Kong, Indonesia, and Thailand is invaluable to the diversity and regional focus of Paragary Restaurant Group food concepts.
"I've always been interested in the origin of food, how it is raised, and where it is raised," says Kurt, "and it seems like the public is now becoming more aware of that school of thought. This adds an exciting element to the dining experience."
"As chefs, we search for new sources of food and inspiration," says Kurt, "but we primarily celebrate our local products. Sacramento Valley may not pop into mind as one of the culinary hotbeds in California or the world, but in terms of agriculture, it really is. We grow some of the best produce on the planet and our menu development is inspired by and takes full advantage of native seasonal ingredients."
Native also applies to Kurt himself. Born and raised in Sacramento, he is a graduate of CSUS. A lifelong musician, Kurt played piano and guitar in numerous local bands and continues to play music today. He is an avid snow skier and surfs along the Northern California coast.
"As Executive Chef," says Kurt, "I supervise, teach, coach, and develop concepts with my chefs. We focus on the customer experience and how to communicate the uniqueness of our dining concepts to them. And I hope they leave with a positive feeling, and anticipating to come back."
Kurt is a member of culinary advisory boards for American River College and the Elk Grove School District. In addition, he is a member of the American River College faculty. Kurt remains actively involved in several philanthropic foundations. Kurt and wife Kitty O'Neal live in Sacramento with their four cats, Rudy, Daisy, Sammy and Giorgio.
Related Links