Recipe
Food Literacy Center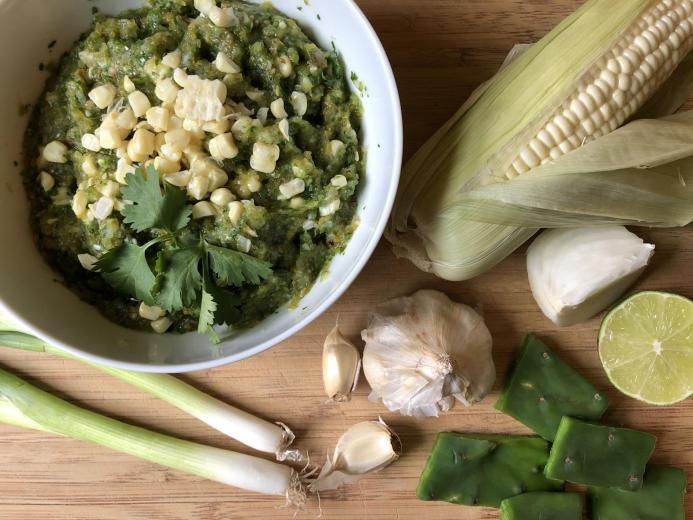 Cactus and Corn Salsa
Cactus grows in backyards throughout California, and is a delicious way to eat your veggies! It has a citrusy, green bean-like flavor. Eating cactus can decrease blood sugar, making it an ideal food for people with type 2 diabetes. It also reduces cholesterol and is packed with vitamins like C, E, A, and iron. This hearty super food is drought-tolerant, making it a climate-friendly option for dinner. Cactus is slimy like okra, which can be reduced by roasting, as we have done in our recipe. Our salsa pairs the cactus paddles of the nopal cactus with cilantro and fresh corn. The salsa is perfect for tacos, on scrambled eggs, or served fresh with tortilla chips for dipping. Tip: cactus paddles can be purchased fresh at farmers markets spring through fall, and are also available in Latin grocery stores, often pre-sliced with thorns removed, in the refrigerator section.
Cactus and Corn Salsa Recipe
Yield: 2 1/2 cups salsa
Supply List
Printable Recipe
Video tutorial: Facebook or YouTube
Ingredients
1 small cactus paddle, spikes removed
1 garlic clove, peeled
1 jalapeno pepper, stem removed
1/2 large white onion, peeled
1 cup cilantro
1 cup green onions
Juice from 1 lime
1/4 cup water
Salt and pepper to taste
1 cup frozen (or fresh) corn
Instructions for Adults
Preheat oven to 400 degrees. Have kids cut cactus and onions into large chunks and the jalapeno in half. On a lightly greased baking sheet, place cactus, garlic, jalapeno, onion. Roast until the veggies are deep golden on all sides, about 15-20 minutes. Flip veggies halfway through. Remove from oven and let cool.
Instructions for Kids
Cut cactus and onion into large chunks and the jalapeno in half. Adults will help you roast them.
With the help of an adult, place roasted veggies into a food processor with cilantro, green onion, lime juice, water, salt and pepper. Puree until smooth.
Pour salsa into a bowl and add corn. Mix, serve with veggies, and enjoy!
Hello! We hope you made and enjoyed this recipe from our Your Sandwich Can Save the World! Food Literacy Curriculum! Please note that all photos and content are copyright protected. Please do not use our photos without prior written permission. If you wish to republish this recipe, please rewrite the recipe in your own unique words and link back to Cactus and Corn Salsa Recipe on Food Literacy Center's website. Thank you!
Related Links