Recipe
By: Chef Kurt Spataro
Baked Pasta with Winter Squash, Greens & Gruyere
"Cooking is at once child's play and adult joy.
And cooking done with care is an act of love." – Craig Claiborne
Valentine's Day is just around the corner, and what better way to show someone your affection than by cooking a delicious meal for them. Executive Chef Kurt Spataro of Paragary's Restaurant Group has shared a seasonal, and filling favorite with us that includes winter squash, greens and Gruyere cheese. Enjoy!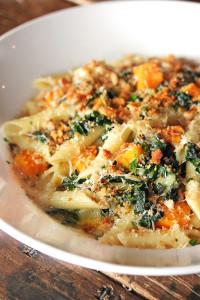 Baked Pasta with Winter Squash, Greens & Gruyere
Ingredients:
1 lb penne pasta, plus another 1-2 ounces 
1 Butternut squash or other winter squash
2 medium yellow onions, halved lengthwise and thinly sliced
1 bunch chard, stems and leaves blanched, shocked and finely chopped
2 cups rich chicken stock
A few sage leaves, chopped
2 Tbsp unsalted butter
2-3 Tbsp extra virgin olive oil
About 6 oz Gruyere cheese, grated
2 Tbsp chopped Italian parsley
Parmesan cheese for grating
Crisp breadcrumbs
Salt and freshly ground pepper
Instructions:
1. Cut squash into 1/2 inch cubes and toss with a little olive oil and salt. Roast squash in oven at 350 degrees until very tender and lightly browned.
2. Saute the onions in olive oil over med heat until soft and lightly browned, 15-20 minutes. Add the sage and cook briefly. Add the cooked squash, chard and chicken stock and bring to a bare simmer. Add the cooked pasta, butter, parsley, and Gruyere and mix well with a wooden spoon. Season with salt and pepper
3. Place the pasta in a baking dish and grate Parmesan over the top. Bake pasta at 350 degrees for about 10 minutes. Remove dish from the oven and sprinkle the breadcrumbs over the pasta. Serve with additional breadcrumbs to pass at the table.
Recipe authored by Paragary's Executive Chef Kurt Spataro.
Photo courtesy of Paragary's Restaurant Group. Recipe originally posted on The Epicurator
Hello! We hope you made and enjoyed this recipe from our Your Sandwich Can Save the World! Food Literacy Curriculum! Please note that all photos and content are copyright protected. Please do not use our photos without prior written permission. If you wish to republish this recipe, please rewrite the recipe in your own unique words and link back to on Food Literacy Center's website. Thank you!
© 2016 Food Literacy Center. All rights reserved. Do not copy or share without written permission.
Related Links