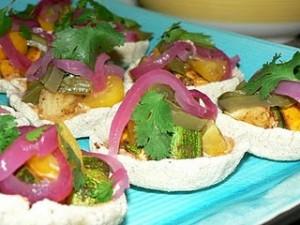 Baked Mexican Sopes with Fresh Corn Flour
This a tasty Mexican dish, filled with delicious marinated zucchini, cactus, and onion, adapted from Viva Vegan.
Yield: 8-10 sopes
1 ½ cups masa harina
1 ¼ cups warm water
½ teaspoon salt
Mix the ingredients together to form a pliable dough. If it's too crumbly, add more water. If it's too moist, add more masa harina. Knead it for a few minutes until smooth, and then return to bowl and cover with a wet cloth. Preheat the oven to 375 degrees.
To make the sopes, pinch off the dough and form a ball about the size of a ping pong ball in the palm of your hand. Flatten it to about ¼-inch thick and pinch the edges to form a little tart. Using a dry skillet (no oil) that's been heated over medium-high flame, place the sopes in the skillet and heat until they are browned on the bottom.
Once all your sopes are browned, place them in the oven on a baking sheet for about 10 minutes.
Or, if you're in a hurry, you can skip the skillet step and place them in a 425 degree oven for 20 to 25 minutes or until they are firm to the touch.
Now you can fill them with anything your heart desires! You can cover your sopes with a dry towel to keep them warm as you are filling them. I recommend the following filling recipes:
Marinated Onions (adapted from Viva Vegan)
1 red onion, cut in half and thinly sliced
Juice of 1 lime
½ teaspoon salt
½ teaspoon sugar
In a small bowl, squeeze enough lime juice over the onion slices to cover. Stir in the salt and sugar. Cover and refrigerate for at least an hour to marinate. These pretty onions will keep for 2 weeks in the fridge and can be made in advance.
Chili Pepper Aioli
3 tablespoons organic mayonnaise
1 teaspoon lime juice
1 teaspoon chili powder
Stir together mayonnaise, lime juice, and chili powder. Cover and set aside in the refrigerator. This will keep for a week in the fridge and can be made in advance.
Sautéed Zucchini & Cactus Garnish
1 zucchini, diced into 1-inch cubes
1 tablespoon chili powder
1 teaspoon black pepper
3 tablespoons pickled cactus, drained (optional)
1 generous handful cherry tomatoes, sliced in half
2 tablespoons cilantro, chopped
Preheat oven to 425 degrees. Lightly spray a baking sheet with olive oil. Spread the diced zucchini evenly on the sheet and place in the preheated oven for about 10-15 minutes, or until tender-firm when poked with a fork. Remove from oven and sprinkle with chili powder and freshly ground black pepper. If you add salt to your food, you can sprinkle some on the zucchini.
Assembling the Sopes
Working with one sope at a time, spread about a ½ teaspoon of the chili powder mayonnaise aioli onto the bottom of the sope. Next, pile in your veggies, using a few pieces each of the baked zucchini, cherry tomatoes, cactus, and marinated onions. Top with cilantro.
Hello! We hope you made and enjoyed this recipe provided by Awake at the Whisk! Please note that all photos and content are copyright protected. Please do not use our photos without prior written permission. If you wish to republish this recipe, please rewrite the recipe in your own unique words and link back to Baked Mexican Sopes with Fresh Corn Flour on Food Literacy Center's website. Thank you!
Related Links