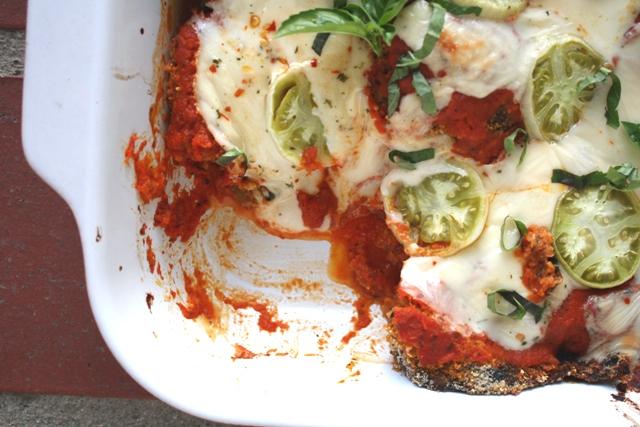 Baked Eggplant Marinara with Roasted Green Tomatoes
Eggplants for eggplant marinara are often fried in oil. A healthier alternative: bake the breaded eggplants in a hot oven. It also saves you time, because you don't have to stand over the stovetop while they brown. Just pop them in the oven while you prepare the rest of your dinner.
Yield: 6-8 servings. This is a light dish. If you've got a hungry crowd you could serve it over cooked pasta.
Baked Eggplant Marinara with Roasted Green Tomatoes
Ingredients:
2 globe eggplants, cut into 2-inch-thick slices
2 Ichiban (Japanese) eggplants, cut in half lengthwise
2 tablespoons salt
¼ cup cornmeal or polenta
1 cup breadcrumbs
1 teaspoon dried Italian herbs
1 1/2 teaspoons freshly ground black pepper
2 eggs
3 cups marinara sauce (fresh, homemade is best), divided
1 cup cubed fresh mozzarella
2 small green tomatoes, sliced thinly (optional)
1 tablespoon julienned fresh basil leaves
1 1/2 teaspoons olive oil
Instructions:
Preheat the oven to 425 degrees.
Place the cut eggplant into a colander and sprinkle generously with salt. Allow to rest for 30 minutes. The salt will pull some of the liquid out of the eggplants and help soften them. After 30 minutes, rinse the eggplant thoroughly under cold water to rinse away most of the salt.
Combine the cornmeal, bread crumbs, pepper and herbs in a shallow dish. Salt to taste.
Crack the eggs into a second shallow dish and whisk.
Dredge each slice of eggplant through the egg, coating thoroughly on all sides. Next, dredge the eggplant through the breadcrumb mixture, coating thoroughly on all sides. Place coated eggplant in a single layer on a baking sheet sprayed lightly with olive oil. Continue until all the eggplant have been coated and are placed in a single layer on the sheet.
Bake in oven for 12 minutes. Remove from oven and flip each slice of eggplant over. Return to oven and bake 12 minutes more, or until golden brown and the eggplants are soft when poked with a fork. Remove from oven.
Place 1 cup of marinara sauce in the bottom of a 9-by-13-inch baking dish. Next, place the baked breaded eggplant in the baking dish in a single layer. Cover the eggplant with the remaining marinara sauce. Top the sauce evenly with the mozzarella cheese and the sliced green tomatoes. Bake in the 425-degree oven for 20 to 25 minutes or until the cheese and sauce are beginning to bubble.
Remove from oven and allow to cool for about 5 minutes. Sprinkle with the fresh basil and olive oil. Serve.
Hello! We hope you made and enjoyed this recipe provided by Awake at the Whisk! Please note that all photos and content are copyright protected. Please do not use our photos without prior written permission. If you wish to republish this recipe, please rewrite the recipe in your own unique words and link back to Baked Eggplant Marinara with Roasted Green Tomatoes on Food Literacy Center's website. Thank you!
Related Links