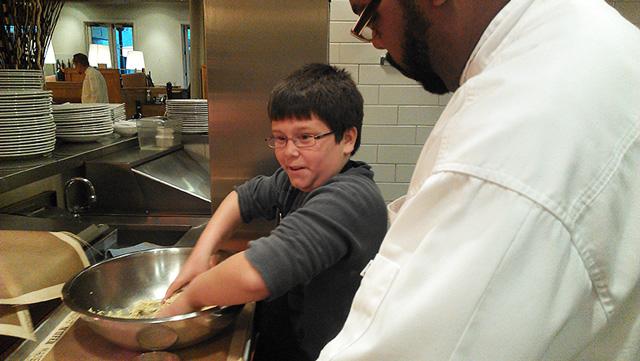 Aidan Hennessey's Sweet Potato Pancake Surprise!
These sweet potato pancakes made by our very own Kid Chef Aidan are tasty and should please every palate!
Sweet Potato Pancakes
Ingredients:
2 medium-large white sweet potatoes
2 eggs lightly beaten (more if needed to hold pancakes)
2 tbsp. flour
For savory pancakes:
½ diced onion
2 minced garlic cloves
1 tsp. paprika
1 tsp. cumin
Pinch salt
Pinch pepper
For sweet pancakes:
1 tsp. nutmeg
½ tsp. ginger
1 tsp. cinnamon or 1-2 tsp. pumpkin spice
Pinch salt
1 tbsp. real maple syrup
Toppings
Savory Greek Yogurt Sauce:
1/8C. Greek yogurt
1/8 C. organic mayo
½ tsp. paprika
½ tsp. cumin
Pinch salt
Pinch pepper
Lime zest
Squeeze of lime juice
Cilantro
Sweet Whipped Topping:
½ C. heavy whipping cream
1 tbsp. sugar
1 tsp. cinnamon
Cooking Instructions:
Peel and grate sweet potatoes – move peeler away from you to be safe!
Add eggs & flour – separate mixture for savory or sweet versions
For savory – add onion, garlic, paprika, cumin, salt, and pepper
For sweet – add nutmeg, ginger, cinnamon, salt, and maple syrup
Heat nonstick pan on medium high, add 1 tbsp. olive oil, pat out small handful of sweet potato mixture. Fry in oil until golden brown, flip, cook on the other side until browned. Keep warm in the oven at 225*. Serve warm.
For savory sauce – mix yogurt, mayo, salt, pepper, paprika, cumin, and lime. Top savory pancakes with chopped cilantro. Serve with sautéed kale. Yum!
For sweet sauce – whip heavy cream with sugar and cinnamon. Top sweet pancakes with sauce and sprinkle with cinnamon. Serve with eggs and sautéed kale or spinach.
Hello! We hope you made and enjoyed this recipe from our Your Sandwich Can Save the World! Food Literacy Curriculum! Please note that all photos and content are copyright protected. Please do not use our photos without prior written permission. If you wish to republish this recipe, please rewrite the recipe in your own unique words and link back to Aidan Hennessey's Sweet Potato Pancake Surprise on Food Literacy Center's website. Thank you!
Related Links