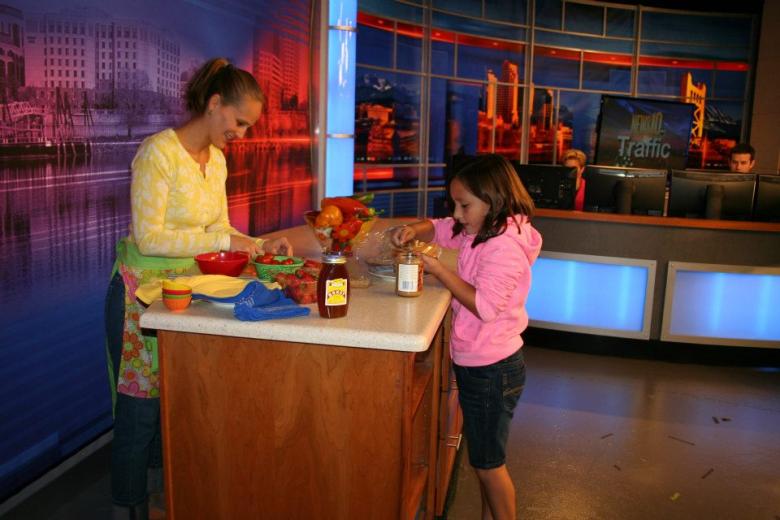 Madelene Silva Wins Kids' Food Literacy Sandwich Contest!
It was a close race for the best Kids' Food Literacy sandwich, but in the end, Madelene Silva's "Strawberry Love" won over the judges because it not only tasted delicious, it is also an easy recipe for other kids to replicate. Unfortunately, Madelene was not able to attend the launch party but was excited and happy when we told her that she won the contest. She said that she enjoyed the process of creating the sandwich.
"It's fun because it's messy to make and it's healthy and has a lot of vitamins. And you can eat other food with it because it's not a lot of calories," Madelene said.
It was also the third grader's first trip to the farmers' market where she chose the ingredients that went into her recipe. Her essay reflects her keen knowledge of food literacy:
"This sandwich represents food literacy because it helps the environment because you're using the whole strawberry except for the tops so there is less garbage. It also helps the environment because you don't have to use gas to fly it all the way to the store. It helps your health because it gives you vitamins and energy. I learned that there is a whole bunch of different kinds of peanut butter."
The competition was a part of Food Literacy Month celebrations in September. The final judging was held at California Food Literacy Center's official launch party at Mayahuel in downtown Sacramento on Sept 29. Kids sent in their recipes over the past few weeks and four finalists were chosen from Facebook votes. At the party, the four finalists' sandwiches were made so that the judges could taste them and give their verdicts. The talented finalists (who are also winners in our eyes!) include: Mark Brunkhorst, aged 16, with Garden Italian Sandwich; Ella, aged 12, with My Healthy Recipe; and Griffin, aged 4 3/4, with My Favorite Sandwich.
The judging panel included respected leaders in various culinary fields: Elise Bauer of the popular recipe website Simply Recipes; Chris Macias, food and wine writer at the Sacramento Bee; Chef Ramiro Alarcón of Mayahuel; Kathi Reilly Smith, restaurant consultant and chef; Peg Tomlinson-Poswall, food activist; and Chef Deneb Williams of The Firehouse Restaurant.
"The contest is a good experience for kids to learn about Food Literacy Month. When kids find out about something, then so do grown-ups," Madelene said.
Wise words from a food literacy superhero! You can watch Madelene make her sandwich in a News 10 segment on Food Literacy Fair!
Related Links