Recipe
Mark Brunkhorst, Grade 11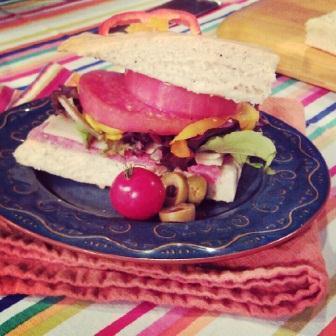 Kids' Food Literacy Sandwich Contest: "Garden Italian Sandwich"
Mark's Garden Italian Sandwich is dandelion delicious! Not to mention its the winning recipe of our Kids' Food Literacy Sandwich Contest! Read more about it here:
Name: Mark Brunkhorst
Age: 15
Grade: 11
School: Leo A. Palmiter High School Culinary Academy
Entry: "Garden Italian Sandwich"
Hello, my name is Mark Brunkhorst and I look forward to competing in the California Food Literacy Center, Kids Sandwich Contest. I believe that my Sandwich is really healthy because I concentrated in the use of vegetables from our school sustainable garden. My school has two academies the first is the Culinary Academy that I am a part of. And the other is the Sustainable Agriculture Academy that grows and provides us with delicious organic vegetables from their gardens. Together we operate a student run Culinary Café that is open to the public on Thursdays. I hope this information is useful to you so that you can get to know me and my background a little better. It will be an honor to be a participant in your event and I think that my sandwich represents "food literacy" principles of nutrition, sustainability and local farming. My sandwich is easy to make and nutritionally balanced.
I am an 11th grade student at Leo A. Palmiter Junior/Senior High School Culinary Arts Academy. Last year I did an internship at Zuchinberg and competed in the California ProStart Boyd's Culinary Cup. We came in 20th place out of 40 schools. The competition was exciting because I got to try duck and meet Master Chefs, There are only 64 Master Chefs in the world so, it was a big deal for me. We also helped cater the Sacramento Tree foundation dinner and I got to meet and cook for Congress woman Matsui and Bobby Jackson from the Sacramento kings.
Thank you for reading my essay and I hope that you pick my recipe. Bon Appetite!
Ingredients:
Rosemary Herb Foccocia bread
Genoa Salami
Pepperjack Cheese
Black Seeded Simpson lettuce
Cherokee purple Heirloom tomatoes
Cal wonderbanana peppers
House pickled garden vegetables
Garlic Aioli
Kalamata olives
Extra virgin olive oil
Balsamic Vinegar
Salt and Pepper
Instructions:
Harvest all vegetables from school sustainable garden, wash and prep properly.
Make bread and pickles and aioli as per separate recipes.
Slice bread into portions and then in half.
Toast bread portions and coat inside with aioli.
Add salami and cheese to bottom section.
Add lettuce and top with tomatoes, peppers, pickles, and olives.
Finish sandwich with evoo and balsamic. Season with S & P
Serve with lightly seasoned "Squash Fries"'
Hello! We hope you made and enjoyed this recipe from our Your Sandwich Can Save the World! Food Literacy Curriculum! Please note that all photos and content are copyright protected. Please do not use our photos without prior written permission. If you wish to republish this recipe, please rewrite the recipe in your own unique words and link back to "Garden Italian Sandwich" on Food Literacy Center's website. Thank you!
Related Links