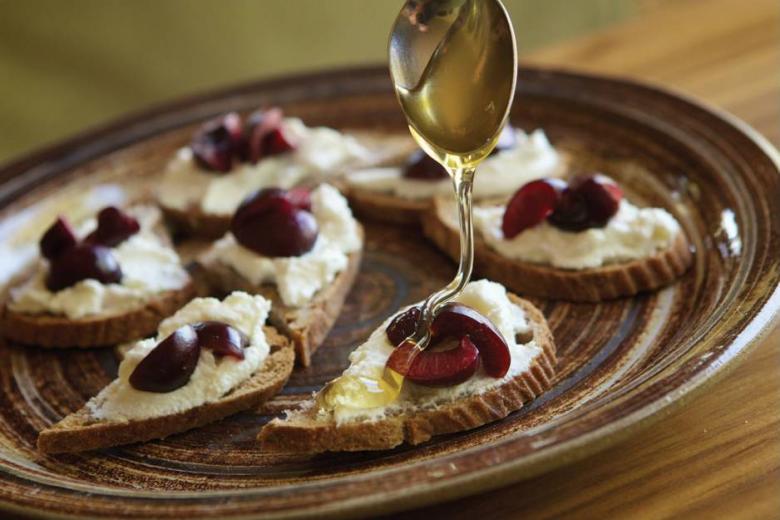 Walnut Crostini with Ricotta Cheese and Cherries
This delicious walnut crostini with ricotta cheese and cherries recipe is from Joanne Neft's cookbook, The Art of Real Food.  Joanne is an integral member of the Placer County agricultural community and a leader in the local food movement. Twenty years ago, she opened the first Foothill Farmers' Market and within three years, six more markets were opened in Placer County. Fifteen years ago, Joanne founded the Mountain Mandarin Festival which attracts tens of thousands of attendees every year.
The Art of Real Food features recipes made from farm-fresh, organic and seasonal ingredients. To purchase a copy of this wonderful cookbook, visit The Art of Real Food.
This recipe is a perfect appetizer for summer dinners and parties. The sweet and salty combination, coupled with the crisp of the crostini will make this dish a hit with your guests!
Yield: serves 4
Preheat oven to 375ºF.
Walnut Crostini with Ricotta Cheese and Cherries
Ingredients:
½ loaf walnut bread
1 tablespoon olive oil
Salt and pepper to taste
4 ounces ricotta cheese
1 pint cherries, pitted and quartered
2 tablespoons honey
Instructions:
To make crostini, slice bread in half length-wise, then cut in ¼-inch thick slices and place on a sheet tray.
Drizzle with olive oil and season lightly with salt and pepper. Toast in oven until crisp, 7 to 10 minutes.
Season ricotta lightly with salt and pepper. Spread generously on crostini.
Top each piece with a few cherry quarters and drizzle with honey.
Recipe courtesy Joanna Neft
Hello! We hope you made and enjoyed this recipe from our Your Sandwich Can Save the World! Food Literacy Curriculum! Please note that all photos and content are copyright protected. Please do not use our photos without prior written permission. If you wish to republish this recipe, please rewrite the recipe in your own unique words and link back to Walnut Crostini with Ricotta Cheese and Cherries on Food Literacy Center's website. Thank you!
Related Links