Recipe
Heather Teoh of Eat the Wind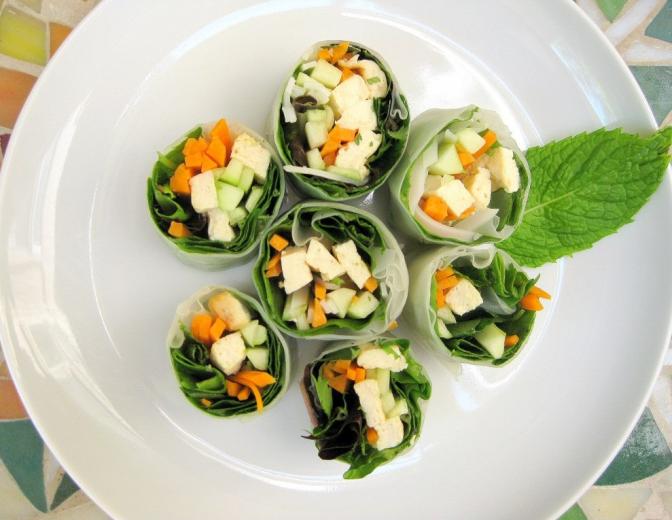 Vietnamese Fresh Rolls with Tofu
With a delicious mix of vegetables and herbs, this Vietnamese-inspired fresh roll is bursting with flavors! Enjoy it as a main meal or appetizer, the added protein from tofu makes it a substantial yet light enough for hot summer days. These refreshing and gorgeous rolls will also make quite an impression at your next party!
Vietnamese Fresh Rolls with Tofu
Yield: 12 rolls
Ingredients:
1 carton firm tofu, sliced into cubed strips
1 Tablespoon olive oil
12 round rice paper sheets (you can find this in the Asian aisle or at the Asian grocery store)
2 ounces rice noodles
1 package of baby spring mixed salad
1 cup fresh cilantro leaves
1 cup fresh basil leaves
1 cup fresh mint leaves
1 cup carrots, julienned
1 cup cucumber (about 1 cucumber), julienned
Sauce Ingredients:
2 limes, juiced
4 Tablespoons fish sauce or soy sauce
2 Tablespoons sugar
3 cloves garlic, minced
2 Tablespoons sweet chili sauce (optional)
Instructions:
Heat olive oil in a large pan in medium heat. Fry the tofu until golden brown. Remove from heat and let it cool down.
At the same time, soak the rice noodles in hot water until soft. Drain it and let it cool down.
Put hot water into a wide bowl that fits the rice sheets. Put 1 rice sheet in the water to soak for 30 seconds to a minute. Remove from water and smooth it out on a cutting board. Place on the middle of the rice paper a small handful of mixed salad and top it with a 2-3 pieces of tofu strips, 2-3 basil leaves, mint leaves, and cilantro, plus a few carrot and cucumber sticks.
Make sure you leave about an inch on the top and bottom free. Fold one end over the ingredients tightly and fold the top and bottom over too. Tightly roll it together like you would to a burrito. Make sure you don't pack too many ingredients in or the paper will burst. Repeat with remaining rice sheets.
Mix all the ingredients of the dipping sauce in a small bowl. Whisk together.
Enjoy it as a hand roll or cut it into bite sized pieces. Serve with the dipping sauce.
Hello! We hope you made and enjoyed this recipe provided by Eat the Wind!​​ Please note that all photos and content are copyright protected. Please do not use our photos without prior written permission. If you wish to republish this recipe, please rewrite the recipe in your own unique words and link back to Veitnamese Fresh Rolls with Tofu on Food Literacy Center's website. Thank you!
Related Links