Recipe
Heather Teoh of Eat the Wind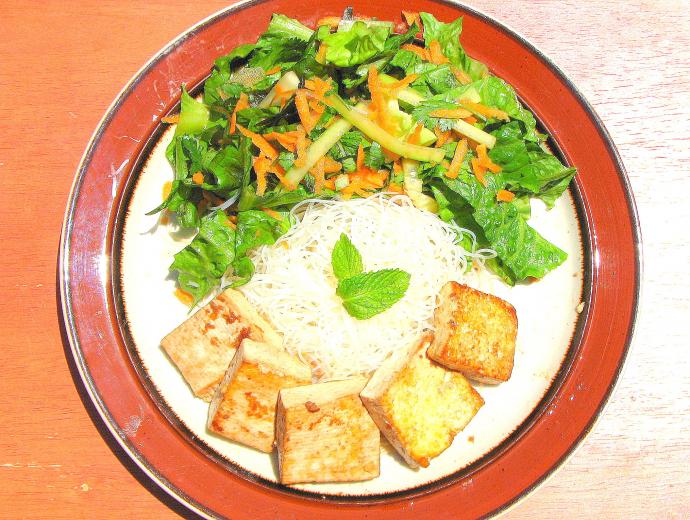 Vietnamese Bun (Noodles) Salad with Tofu
Summer is the time for crisp, refreshing salads. This Vietnamese salad has everything – vegetables, herbs, protein, and carbohydrates. Each component brings its own flavor to the mix, and when eaten together, you experience a burst of flavor that is both invigorating and satisfying. Carrots bring a natural sweetness to a dish that already has savory, tart and refreshing flavors!
Vietnamese Bun (Noodles) Salad with Tofu
Salad ingredients:
1 packet, extra firm tofu, cut in half and sliced into 1 inch thick squares
1 tablespoon grapeseed oil
1 packet vermicelli rice noodles
1 cucumber, peeled, seeded and cut into matchsticks
2 large carrots, peeled and roughly shredded
1 large handful of lettuce, shredded
1 small handful of fresh basil, roughly chopped
6-8 mint leaves, roughly chopped
1 small handful cilantro, roughly chopped
Marinade Ingredients:
2 tablespoons soy sauce
1 teaspoon ginger powder
2 garlic cloves, minced
1 teaspoon sugar
Dressing Ingredients:
2 limes, juiced
4 tablespoons fish sauce
2 tablespoons sugar
4 garlic cloves, minced
Instructions:
Marinade tofu squares for 2 hours in the refrigerator. Heat oil in a large pan and sauté the tofu squares until golden brown.
Prepare dressing by combining lime juice, fish sauce, sugar and garlic in a small bowl. Whisk together.
Bring 4 cups of water to a boil in a large pot. Add rice noodles and boil for 4-5 minutes until tender. Drain noodles and set aside to cool down.
Toss the vegetables and herbs together in a large salad bowl. Divide them into 4 smaller bowls. Add the rice noodles next and top each bowl with tofu.
Add the dressing to taste. The fish sauce makes the dressing rather salty, so add it 2 teaspoons at a time to ensure it's to your taste.
For other recipes using carrots, visit these blogs:
Veggie & Cheese Wontons by Simple Food Healthy Life
Pan-seared Scallops with Carrot-Ginger Sauce by Tomatoes on the Vine.
Hello! We hope you made and enjoyed this recipe provided by Eat the Wind! Please note that all photos and content are copyright protected. Please do not use our photos without prior written permission. If you wish to republish this recipe, please rewrite the recipe in your own unique words and link back to Vietnamese Bun (Noodles) Salad with Tofu on Food Literacy Center's website. Thank you!
Related Links