Recipe
Food Literacy Center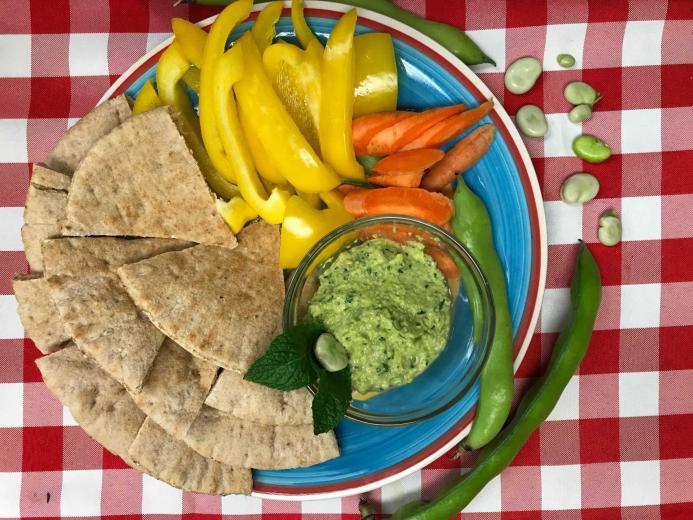 Veggie Basics: Fava Bean & Mint Hummus
Fava Bean & Mint Hummus Recipe
Yield: 3 1/2 cups
Supply List
Printable Recipe
Video tutorial: Facebook or YouTube
Ingredients
3 cups fresh fava beans, shucked and peeled
1 Tablespoon tahini (sesame seed paste)
1/2 lemon, juiced
2 Tablespoons mint, chopped
1 Tablespoon ginger, minced
1 Tablespoon honey
3 Tablespoons olive oil
Salt and pepper to taste
Instructions for Adults
Assist with supervision of stovetop usage and safe knife handling.
Instructions for Kids
With the help of an adult, bring one large pot of water to a boil. Remove fava beans from outer casing and add to boiling water. Using a slotted spoon, remove beans from boiling water after 1 minute. Cool. Keep the pot of water boiling to use again with the peeled beans.
Using a small knife or the tip of a fork, make a small slice in one end of the bean's skin and squeeze the bean out. Put shucked and peeled beans back into the boiling water, cook for 3-5 minutes or until tender. Drain fava beans and cool in a bowl of ice water for about 5 minutes, then drain.
In a food processor or blender, combine cooked fava beans and olive oil. Pulse until roughly chopped. Add the remaining ingredients and blend until creamy.
Add salt and pepper to taste. Serve with your favorite veggie slices or crackers.
Hello! We hope you made and enjoyed this recipe from our Your Sandwich Can Save the World! Food Literacy Curriculum! Please note that all photos and content are copyright protected. Please do not use our photos without prior written permission. If you wish to republish this recipe, please rewrite the recipe in your own unique words and link back to the Fava Bean & Mint Hummus Recipe on Food Literacy Center's website. Thank you!
Related Links