Recipe
Food Literacy Center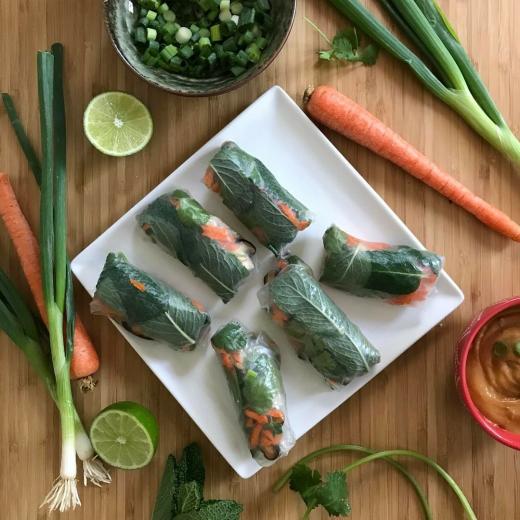 Vegetable Spring Rolls with Brown Rice & Mushrooms
These delicious, light and veggie-filled spring rolls are the perfect combination of flavors that both kids and adults love! Crisp finely grated carrots, mushrooms and lots of fragrant mint and cilantro wrapped in rice paper and served with a delicious Sun Butter Dipping Sauce. They are a quick and fun snack to make, and they are beautiful!
Vegetable Spring Roll Recipe
Yield: 1 dozen spring rolls
Ingredients
1 cup rice, uncooked
1 package rice papers
1/2 pound crimini mushrooms, sliced
1 small bunch cilantro, stems removed
1 Tablespoon rice vinegar
1 small bunch mint, stems removed
2 Tablespoons olive oil
3 green onions, diced
1-2 limes, juiced and zested
2 carrots, grated
Instructions for Adults:
Cook rice according to instructions on package. Meanwhile, heat a skillet over high heat. Add olive oil, rice vinegar and sliced mushrooms. Saute for 5 to 8 minutes, or until mushrooms are soft and golden brown. Transfer to a small bowl. Dice green onions and set aside in a separate bowl.
Instructions for Kids:
With the help of an adult, transfer the cooked rice to a large mixing bowl. Add 1 Tablespoon lime zest and 2 Tablespoons lime juice to the rice and mix together using a fork. Add salt to taste.
Fill the bottom of a rimmed plate with lukewarm water. Soak 1 rice paper in the water for 2-3 seconds, then remove promptly and lay on a flat, dry surface. Add 2-4 mint leaves, 2 sprigs of cilantro, 1 teaspoon each of green onion and carrot, 1 Tablespoon cooked mushrooms and 1 Tablespoon cooked lime rice. Fold according to the instructions on the rice paper package.
Serve & enjoy! Tastes great served with Sun Butter Dipping Sauce!
Sunbutter Dipping Sauce Recipe
Yield: 1/2 cup sauce
Ingredients
1/2 cup sunflower seed butter
2 Tablespoons lime juice
1 Tablespoon hoisin sauce
1 Tablespoon chili garlic sauce
1 teaspoon rice vinegar
1 teaspoon brown sugar
1 teaspoon soy sauce
Water to thin
Instructions for kids:
In a small mixing bowl, measure and mix together all ingredients. Add water 1 Tablespoon at a time and mix until desired thickness is reached. Sauce should be thin enough for dipping.
Serve and enjoy!
Hello! We hope you made and enjoyed this recipe from our Your Sandwich Can Save the World! Food Literacy Curriculum! Please note that all photos and content are copyright protected. Please do not use our photos without prior written permission. If you wish to republish this recipe, please rewrite the recipe in your own unique words and link back to Vegetable Spring Rolls with Brown Rice & Mushrooms on Food Literacy Center's website. Thank you!
Related Links