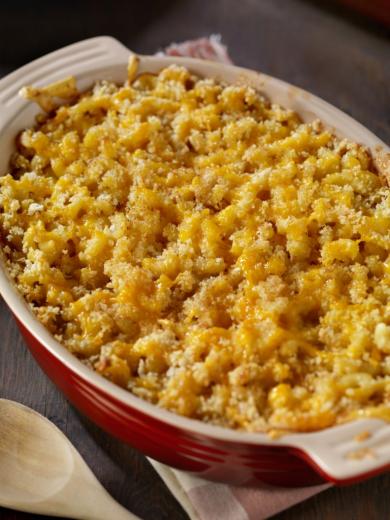 Vegan Mac & Cheese
No boxes for this treat! This is a healthy, delicious alternative to the ubiquitous mac and cheese. The sauce on this one…well, it will leave you licking the spoon! I give you two ways to make this; one for the child in all of us that is familiar to yesteryear. The other a very grown up version with a crispy crumble topping that could be served at any elegant affair.
Vegas Mac & Cheese
Ingredients:
Mac
1 whole medium Tahitian squash (butternut works well too)
1/2 Tbsp Himalayan Pink Salt
Cheese
1/2 cup olive oil
1 1/2 cups orange bell pepper
1/2 tsp minced garlic
1 cup cashews, soaked 4-6 hours
1 tsp Himalayan pink salt
4 Tbsp nutritional yeast
1 pinch turmeric
1/4 tsp onion powder
1/2 tsp dry mustard
"Baked" Topping Mac & Cheese
1/2 cup almond or Brazil nut pulp (leftover from making nut milk)
1 tsp paprika
1/4 tsp Himalayan pink salt
1 Tbsp cane sugar
Noodles
To prepare the "noodles," peel a medium Tahitian squash and cut into manageable chunks.
Process the pieces through a spiral slicer for authentic looking noodles or use a vegetable peeler to create long "noodles."
Chop the noodles into small "macaroni" pieces.
Put pieces into a strainer and mix in salt. Gently squeeze squash and leave squash in strainer for at least an hour. This step is necessary to reduce the amount of water in the squash.
Spread the strained "noodles" on a tea towel and dry thoroughly.
Cheese
Put all "cheese" ingredients, in the listed order, into a high powered blender.
Blend until smooth and creamy.
Putting It All Together
Gently mix together the squash and cheese mixture using a spatula.
Place mixture into an 8in x 8in baking dish. Cover with plastic wrap and put in the dehydrator at 105 for 8 hours.
"Baked" Mac & Cheese
Prepare the Mac & Cheese as above, but stop before putting any plastic film on the baking dish.
In a medium-sized mixing bowl, using a fork mix up the "baked" topping
Ingredients

½ cup nut pulp
1 tsp paprika
1Tbsp cane sugar
¼ tsp Himalayan pink salt

Evenly spread the topping on the Mac & Cheese.
Cover the baking dish with plastic wrap and put in the dehydrator for 8 hours at 105 degrees.
Tips
You can make "noodles" out of loads of different squash. The key to remember is water removal. Salt, let rest, drain and dry for perfect "pasta" every time!
Hello! We hope you made and enjoyed this recipe provided by Chef Tina Jo! Please note that all photos and content are copyright protected. Please do not use our photos without prior written permission. If you wish to republish this recipe, please rewrite the recipe in your own unique words and link back to Vegan Mac & Cheese on Food Literacy Center's website. Thank you!​
Related Links