Recipe
Food Literacy Center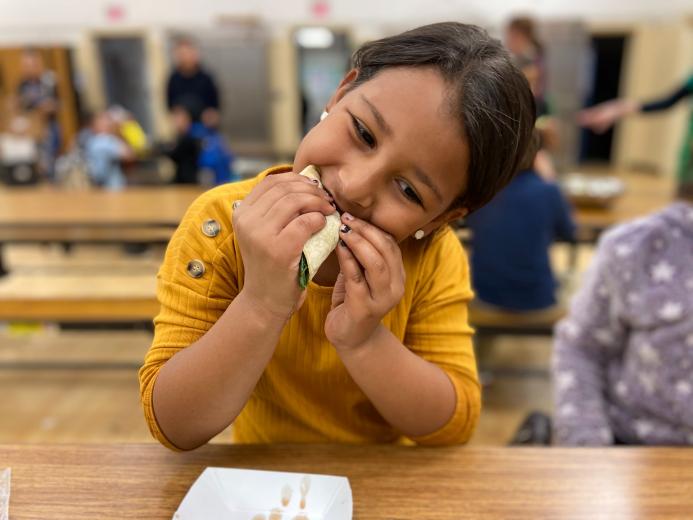 Tres Hermanas Tacos
Tres Hermanas are three important foods that Native Americans first planted and ate in North America. They originated in Mexico. "Tres hermanas" means "Three Sisters" in Spanish. These plants are often grown together–and they also taste yummy together in a recipe. The three sisters are: corn, beans, and squash.
Tres Hermanas Tacos
Yield: 4 cups of taco filling, 8 tacos
Printable Recipe in English
Printable Recipe in Spanish
Printable Recipe in Hmong
Video of the Recipe
Ingredients:
1 teaspoon olive oil
1 zucchini, cubed
8 tortillas
3-5 sprigs cilantro, chopped
1 cup sweet corn, (fresh, frozen, or canned)
1 cup black beans (fresh or canned)
1 green onion, diced
1 teaspoon ground cumin
Juice of 1 lime
Salt and pepper to taste
Instructions for Adults
Warm pan for 1 minute over medium-high heat and add olive oil. Add cubed zucchini and sauté for 3-5 minutes until fork-tender and slightly browned. Return sautéd zucchini to the bowl. Warm tortillas on a hot pan while kids complete the taco recipe.
Instructions for Kids
Cut the zucchini into 1-inch cubes and place in a large mixing bowl.
Tear or chop cilantro while the zucchini is cooking.
Once the zucchini has been cooked, measure and add sweet corn, black beans, green onion, cumin, juice of the lime, and cilantro to the cooked zucchini.
Stir to combine. Add salt and pepper to taste.
Scoop the mixture onto a warm tortilla and enjoy!
Hello! We hope you made and enjoyed this recipe from our Your Sandwich Can Save the World! Food Literacy Curriculum! Please note that all photos and content are copyright protected. Please do not use our photos without prior written permission. If you wish to republish this recipe, please rewrite the recipe in your own unique words and link back to Tres Hermanas Tacos on Food Literacy Center's website. Thank you!
Related Links