Recipe
Heather Teoh of Eat the Wind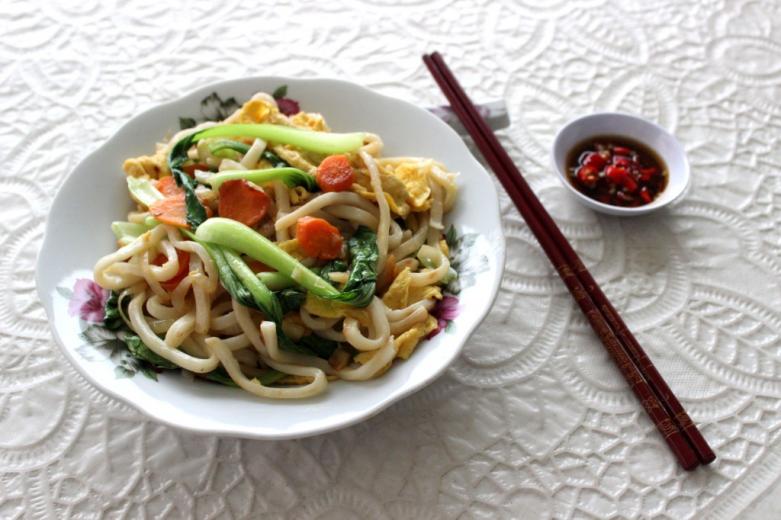 Stir Fried Japanese Noodles
Delicious and easy to throw together, stir fried udon has a great texture and takes on the flavor of whatever ingredients and sauces you add to it. Udon is Japanese thick rice noodles that can be found in grocery stores in the refrigerated section of the produce aisle. Add in fresh veggies and it's a filling meal!

Stir Fried Japanese Noodles Recipe
Yield: 2 cups
Supply List
Printable Recipe English
Printable Recipe Spanish
Printable Recipe in Hmong
Video tutorial: Facebook or YouTube
Ingredients:
1/2 Tablespoon olive oil
4 cloves garlic, roughly chopped
1 small carrot, thinly sliced
1/4 onion, thinly sliced
1 teaspoon sesame oil
1 packet 7 oz udon noodles (thick rice noodles)
1/2 teaspoon soy sauce, or to taste
1/2 teaspoon fish sauce, or to taste
2 bunches greens, such as bok choy or choi sum individual leaves separated
1 egg, beaten
Optional Sauce
2 Thai bird's eye chilies, sliced finely
1 Tablespoon soy sauce
Instructions for Adults
Assist with supervision of safe knife skills and stovetop.
Instructions for Kids
In a sauté pan, stir fry the garlic in olive oil over medium heat. After a minute, add the carrot and onion slices. Stir fry for another 2-3 minutes until the carrots have softened.
Add the sesame oil and the udon noodles. Use chopsticks to loosen up the udon in the pan. Stir fry it for another 3 minutes until the udon noodles have softened. Add soy sauce and fish sauce to the mixture.
Add the greens and stir fry it for about 2-3 minutes until vegetables are cooked but still green and crunchy.
Remove the noodles and vegetables and place in a bowl. In the same pan, add the beaten egg and when it's almost cooked, toss in the noodles and vegetables. Break apart the egg and toss everything together.
Optional: Place sliced Thai bird's eye chilies in a small sauce dish. Add a tablespoon of soy sauce. Dip the noodles and vegetables in the spicy soy sauce to add a kick to your dish!
Hello! We hope you made and enjoyed this recipe provided by Eat the Wind! Please note that all photos and content are copyright protected. Please do not use our photos without prior written permission. If you wish to republish this recipe, please rewrite the recipe in your own unique words and link back to Stir Fried Japanese Noodles on Food Literacy Center's website. Thank you!
Related Links