Recipe
Heather Teoh of Eat the Wind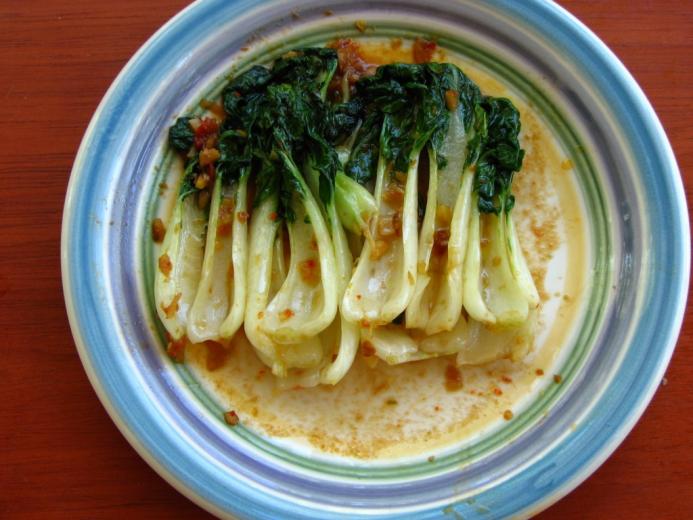 Spicy Bok Choy Stir Fry
Say goodbye to Chinese take-out! Home-cooked stir fries are easy to make and much healthier for you. This recipe combines the crisp and delicate flavor of bok choy with the heat of bird's eye chilies. To make it a more substantial meal, add protein like tofu slices or chicken breasts.
Yield: Serves 4
Spicy Bok Choy Stir Fry
Ingredient:
6 cloves garlic, peeled
2 Thai red bird's eye chilies, stems removed
1 tablespoon canola oil
8 heads baby bok choy (about 12 cups), separated from stems, washed and dried
2 teaspoons soy sauce (or to taste)
2 teaspoons fish sauce
Instructions:
Put whole garlic cloves and chilies into a mini food processor and blend them into a paste. If you don't have a food processor, pound the garlic and chilies together in a mortar and pestle, or just mince both items with a knife. If you are using a knife, wear gloves!
Heat the oil in a pan over medium heat. Add the garlic and chili paste and fry until fragrant, about 1 minute. Add the bok choy and stir-fry for 2 to 3 minutes. Stir in the soy sauce and fish sauce. Stir to coat the bok choy. Remove from heat.
Enjoy the spicy bok choy with a steaming hot bowl of rice.
Check out these other bok choy recipes:
Baby Bok Choy with Cashews by Simply Recipes
Bok Choy Salad by Gig Harbor Community Gardens
Hello! We hope you made and enjoyed this recipe provided by Eat the Wind! Please note that all photos and content are copyright protected. Please do not use our photos without prior written permission. If you wish to republish this recipe, please rewrite the recipe in your own unique words and link back to Spicy Bok Choy Stir Fry on Food Literacy Center's website. Thank you!
Related Links