Recipe
Heather Teoh of Eat the Wind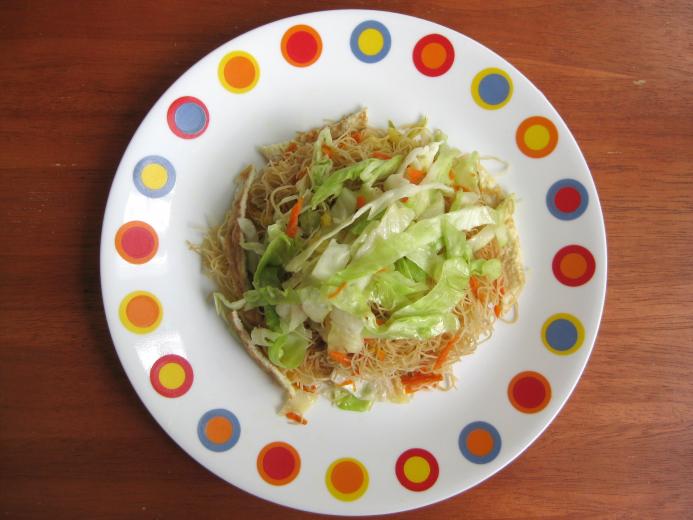 Singapore Fried Rice Noodles
The following recipe is for Singapore fried rice noodles, or fried bee hoon, a simple dish that is served for breakfast or lunch, and is something we bring to pot lucks as well. You can enjoy it vegan style with cabbage and carrot, or vegetarian with an added egg, or with chicken and/or shrimp. It's really quite versatile! Enjoy as a main dish or a side dish!
Yield: Serves 4-6
Singapore Fried Rice Noodles
Ingredients:
One 8.8-oz box thin rice noodles (find this at the Asian aisle of any grocery store, a popular brand is Thai Kitchen)
1 tablespoon vegetable oil
6 cloves garlic, finely chopped
Half a small head of green cabbage, sliced into strips (about 4 cups)
3 carrots, peeled and coarsely grated (1 1/2 cups)
2 chicken breasts, cut into bite-sized pieces (optional; see Note)
2 tablespoons soy sauce or gluten-free tamari (more or less to taste)
1 tablespoon fish sauce (more or less to taste)
Freshly ground black pepper
3 eggs, beaten with 2 teaspoons soy sauce and some cracked black pepper
Instructions:
Soak the rice noodles in warm water until they're soft (about 10-15 minutes). Then drain them with a colander. Set aside.
Over medium heat, warm the oil in a large wok or deep pan with a lid, and fry the garlic for about 1 minute (until slightly tender but not browned). Add the cabbage and stir-fry the strips for about 5 minutes (until it is tender crisp and still green in color). Next, add the grated carrots and fry them for about 3 minutes.
If it is not a vegetarian dish, you can add the chicken pieces to the pan with the vegetables and stir-fry until the chicken is half done.
Then, with the heat still at medium-high, add the rice noodles and toss them with the vegetables and chicken. Add the soy sauce and fish sauce, some pepper, and ½ cup water. Toss together and cover the pan with a lid for about 4-5 minutes. Uncover the lid to toss the noodles again, and if it is too dry, add another ½ cup water and stir.
If the noodles are cooked (tender, yet firm, but not mushy), turn the heat to low and cover the pan to keep it warm.
In another large shallow pan, fry the beaten eggs until golden brown. Cut them into strips and toss into the cooked rice noodles. Serve immediately.
Note: If you are adding chicken, marinate the pieces in ½ tablespoon soy sauce and some black pepper for about 30 minutes in the refrigerator.
For more ways to use cabbage, check out these recipes:
Beef & Veggie Bowl from Food Nurd.
Korean Napa Cabbage Kimchi from Asian Dumpling Tips.
Braised Green Cabbage with Onions, Carrots, and a Poached Egg from Orangette.
Hello! We hope you made and enjoyed this recipe provided by Eat the Wind! Food Literacy Curriculum! Please note that all photos and content are copyright protected. Please do not use our photos without prior written permission. If you wish to republish this recipe, please rewrite the recipe in your own unique words and link back to Singapore Fried Rice Noodles on Food Literacy Center's website. Thank you!
Related Links