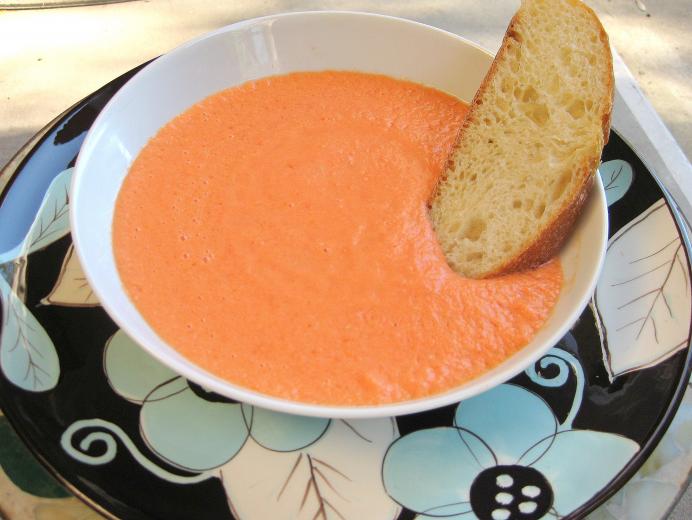 Salmorejo Cordobés (chilled tomato bread soup)
Sweet with a zing of vinegar, this delicious chilled tomato soup will cool you down and fill you up on hot summer days. When I visited Sevilla, Spain, I stayed with my Spanish friend whose mother made this delicious dish for lunch. Originally from Córdoba, it is served in tapas bars and cafés, and well-loved by locals (and me)!
Salmorejo Cordobés  (chilled tomato bread soup)
Yield: Serves 8
Ingredients:
12 ripe tomatoes (on-the-vine or Roma), coarsely chopped
2 Tablespoons red wine vinegar or cider vinegar
1 clove garlic, peeled
1 Tablespoon sea salt, or to taste
2 cups day old-French loaf, coarsely torn
1 cup water
1 cup of extra virgin olive oil
Instructions:
Puree tomatoes in a blender until smooth. Add vinegar, garlic, salt, bread, and water. Continue to blend until smooth. Slowly add the olive oil while blending until the salmorejo is creamy.
Enjoy on its own or top with hard-boiled egg cut into small pieces and shredded slices of Serrano ham (optional).
Recipe and photo by Heather Teoh
Hello! We hope you made and enjoyed this recipe from our Your Sandwich Can Save the World! Food Literacy Curriculum! Please note that all photos and content are copyright protected. Please do not use our photos without prior written permission. If you wish to republish this recipe, please rewrite the recipe in your own unique words and link back to on Food Literacy Center's website. Thank you!
© 2016 Food Literacy Center. All rights reserved. Do not copy or share without written permission.
Related Links