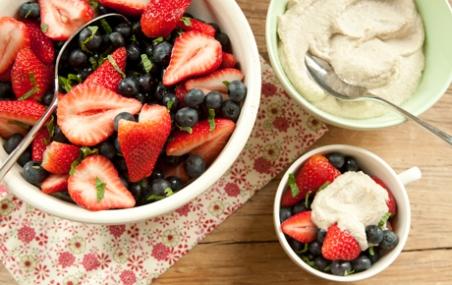 Red, White and Blue Fruit Salad
Enjoy summer's bounty of delicious strawberries and blueberries with your very own homemade cashew cream. This colorful fruit salad will thrill both kids and adults, and is packed with healthy vitamins, antioxidants and nutrients for everybody!  Thanks to Whole Foods Market Sacramento for this yummy recipe.
Bring your own reusable shopping bags to Whole Foods Sacramento and Whole Foods Roseville from now to the end of September to get the ingredients for this nutritious fruit salad. As part of their Nickels for Nonprofits program, California Food Literacy Center will receive 5 cents as a donation per reusable bag. Shop to support food literacy!
Red, White and Blue Fruit Salad
Ingredients:
1 cup raw, unsalted cashew pieces (about 4 1/2 ounces)
2 pitted dates (about 1 1/2 ounces), roughly chopped
1 teaspoon vanilla extract
1 pound strawberries, hulled and halved
11 ounces blueberries
1/4 cup roughly chopped mint
Instructions:
Put cashews into a large bowl, cover with water and set aside at room temperature to let soak for 4 hours or overnight; drain well. Transfer to a food processor; add dates, vanilla and 1/2 cup plus 2 tablespoons warm water and purée until smooth. In a large serving bowl, toss together strawberries, blueberries and mint. Serve with cashew cream.
Recipe and photo courtesy Whole Foods Market Sacramento.
Related Links