Recipe
Food Literacy Center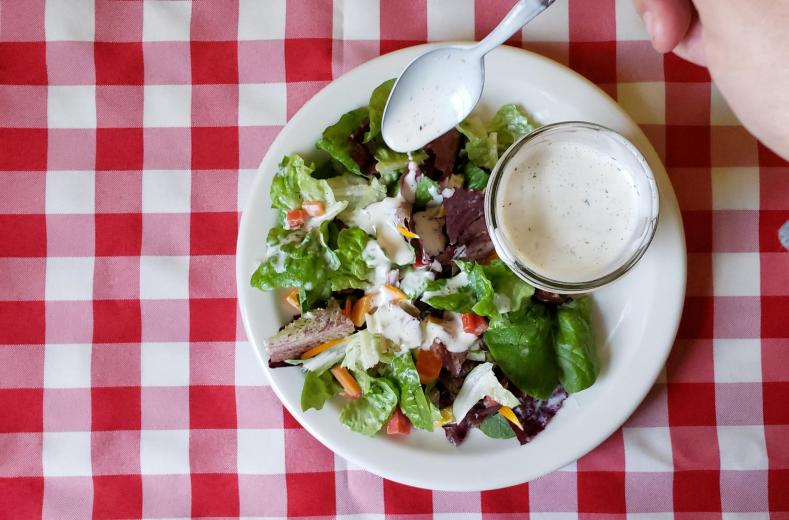 Ranch Dressing
Most kids love ranch dressing! The kids we teach always ask for ranch dressing to dip their raw vegetables in. During one of our cooking lessons, we taught them how to make their very own dressing and they were so excited! This recipe is extremely simple to follow and has healthy herbs, olive oil and grapefruit juice. Instead of running to the grocery store for your bottle of ranch dressing, just shake one up yourself!
Ranch Dressing Recipe
Ingredients:
2 Tablespoons lemon juice
4 Tablespoons olive oil
1/2 cup buttermilk
1/2 cup mayonnaise
1/2 teaspoon garlic powder
2 pinches dill
2 pinches oregano
2 pinches black pepper
1 pinch salt
Instructions for Kids:
Pour all ingredients into a glass jar. Screw the lid on tightly. Shake until ingredients are well blended.
Hello! We hope you made and enjoyed this recipe from our Your Sandwich Can Save the World! Food Literacy Curriculum! Please note that all photos and content are copyright protected. Please do not use our photos without prior written permission. If you wish to republish this recipe, please rewrite the recipe in your own unique words and link back to Ranch Dressing on Food Literacy Center's website. Thank you!
Related Links