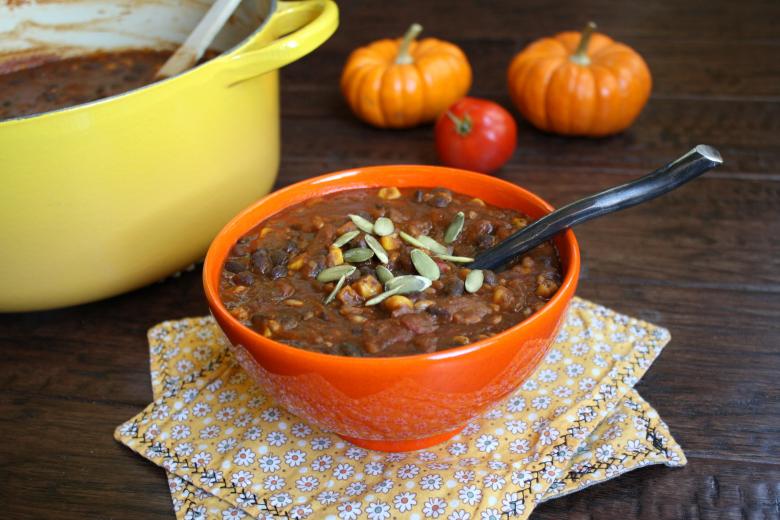 Pumpkin Black Bean Chili
This recipe packages rich fall pumpkin, bursting corn, meaty and mellow black beans, bright tomatoes, nutty farro and a host of warming spices into one gift of a chili. It's lunchtime as I'm writing, and the pot is simmering for tonight's supper. I can barely contain myself! I hope you'll feel the same. And I hope you'll cook this for someone you love.
Pumpkin Black Bean Chili
Ingredients:
1 teaspoon grapeseed or canola oil
1 white or yellow onion, or about 1 1/2 cups, diced
1 cup farro, rinsed and drained
1 15-oz can tomato sauce
3 15-oz cans black beans
2-4 teaspoons chili powder, more or less to taste
2 teaspoons ground cumin
1-2 teaspoons paprika, more or less to taste
1 teaspoon chili flakes, optional
1 teaspoon freshly ground black pepper
1 teaspoon Mexican oregano
4 cups diced tomatoes
1 15-oz can pumpkin puree
6 cloves of garlic, minced
Pumpkin seeds for garnish
oil
onion
tomato
beans
oregano
chili flakes
pumpkin
Supermarket ingredients:
Instructions:
Heat a 4-quart pot over medium-high heat. Add the oil and onion. Sauté the onion for 3 minutes or just until beginning to brown. Add the farro and cook another 3 minutes. Add the tomato sauce and bring heat to a simmer, stirring regularly for about 5 minutes. Add the black beans (do not drain the liquid) and maintain the simmer.
Add the spices and stir to combine. Maintain the simmer for another 5-10 minutes, stirring occasionally, scraping the bottom of the pan to ensure none of the farro is sticking to the bottom. Taste a piece of the farro to see if it is nearing desired tenderness. It should have a soft bite, like cooked brown rice or oats. If the farro needs additional cooking, leave the heat to a simmer and continue stirring, checking the farro for desired tenderness in 2-5 minute increments.
Add the diced tomatoes, pumpkin puree, and garlic. Stir to combine. Simmer an additional 5 minutes.
Garnish with pumpkin seeds and serve.
Hello! We hope you made and enjoyed this recipe provided by Awake at the Whisk! Please note that all photos and content are copyright protected. Please do not use our photos without prior written permission. If you wish to republish this recipe, please rewrite the recipe in your own unique words and link back to Pumpkin Black Bean Chili on Food Literacy Center's website. Thank you!
Related Links