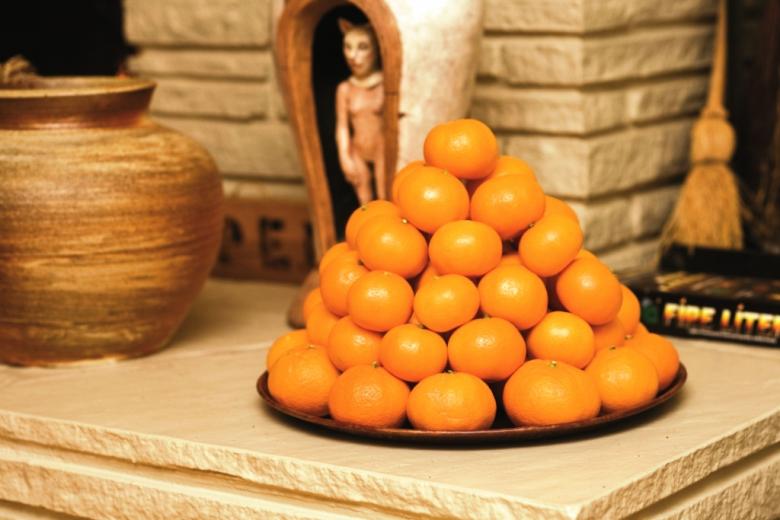 Prawn and Mandarin Stir Fry
This Valentine's Day, love your heart by adding mandarins to your diet. According to LIVESTRONG, they contain a high level of vitamin C, A, potassium and calcium, and are considered a heart-healthy fruit.
Mandarin season usually runs from November through January (although the season has lasted longer this year), so the fruit is available for a variety of recipes—juice, salads, sauces, syrups, marmalade, and desserts. Mandarins are an easy fruit to preserve, giving the benefit of marmalades and syrups throughout the year.
There are always several big baskets filled with mandarins in my kitchen and more mandarins in the bottom drawers of the refrigerator. Many times I've kept mandarins in the fridge until the end of March or early April.
Yield: Serves 4
Prawn and Mandarin Stir Fry
Ingredients:
1 pound prawns, peeled and deveined
2 tablespoons fresh mandarin juice
2 tablespoons grapeseed oil
2 cloves garlic, minced
½ onion, julienned
4 stalks celery, sliced
Salt and pepper
3 mandarins, segmented
½ cup celery leaves
¼ cup Snow's Citrus Mandarin Stir-Fry Sauce (sold at Whole Foods Market)
¼ cup pistachios
1 teaspoon mandarin zest
2 cups cooked brown rice
3 tablespoons sliced scallions
Instructions:
In a medium bowl, combine the prawns and mandarin juice. Cover and refrigerate up to 1 hour.
In a large sauté pan, heat 1 tablespoon of the oil and add the garlic and onion. Cook until fragrant. Add the celery and continue to cook until just tender. Season lightly with salt and pepper and remove from the pan; set aside.
Heat the remaining 1 tablespoon oil and add the prawns. Season lightly with salt and pepper and cook until almost opaque in color. Add the celery mixture back to the pan with the mandarin segments, celery leaves, stir-fry sauce, pistachios, and zest. Toss to coat everything well. Season to taste with salt and pepper.
Serve over the steamed rice and garnish with the scallions.
For more ways to use mandarins, check out these recipes:
Asian Chicken Salad from Dianasaur Dishes.
Mandarin marmalade from The Telegraph.
Hello! We hope you made and enjoyed this recipe provided by Joanne Neft! Please note that all photos and content are copyright protected. Please do not use our photos without prior written permission. If you wish to republish this recipe, please rewrite the recipe in your own unique words and link back to Prawn and Mandarin Stir Fry on Food Literacy Center's website. Thank you!​
Related Links